HIROKO Jet Technology Co., Ltd.
Case Studies
Okuma—A comprehensive CNC machine tool manufacturer.
Pursuing precision multitasking machining for the aerospace industry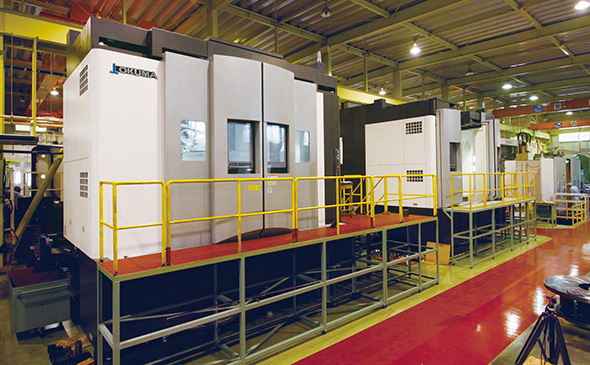 Industry

Aviation parts manufacturing, aerospace parts manufacturing
HIROKO Jet Technology Co., Ltd.
The situation when interviewed
Responsible for handling jet engine outsourced from parts Rolls-Royce.
The material is a hard-to-cut titanium alloy and Inconel, with varying taper thickness, requiring 1-micron accuracy for large components.
Issues

Reducing lead time for manufacturing large parts

We want to shorten lead time by making both large-scale parts setup and precision machining compatible.
Basic performance issues such as rigidity and thermal stability are essential conditions.
Precise measurement will be performed inside the machine, so good accessibility is also important.

Implementation

Installed a VTR-350A double-column multitasking machine, a VTM-1200YB 5-axis vertical multitasking machine, and an MCR-BⅢ machining double-column machining center (5-face applications)

Effectiveness

Achieving shorter lead times with a 5-axis machine that demonstrates stable accuracies (5-face applications)

VTM-2000YB not only provides process-intensive machining, but also has good accessibility and easy in-machine measurement.
Stable accuracy and productivity are maintained even with all-stainless steel parts by 5-sided machining with the universal head of the MCR-BⅢ.
Customer Information
HIROKO Jet Technology Co., Ltd.
Head Office

12507-916 Gohara-cho, Kure City, Hiroshima
Website
Incorporated

1956
Business

Parts for: jet engine (aircraft & land/marine), space stations & rockets, reciprocating large compressors, gas turbines, high-tech industrial, measuring instruments & application fixtures & special equipment for aircraft materials, measuring instruments & application fixtures & special equipment for automobile engines, etc., and measuring instruments & precision fixtures for other precision machines.
Employees

231
Okuma Products/Technology
Learn more from the customers in the USER'S VOICE Vol. 11 pamphlet.
Also see the Okuma product brochures.
• Member registration (free) is required for downloads.