Development of the GENOS M460-VE Vertical Machining Center-A high quality, global machine

27 Jan 2010
Industrialization of the BRIC countries and other emerging countries is expanding the market for products and giving rise to new demand for plant and equipment. Meeting these needs calls for simple and reasonably priced machines that can win the global price wars. Okuma is developing a new GENOS series of products that combine essential basic specifications with our traditional machining accuracy, rigidity, and ease of use, to win over users around the world.

First up in the GENOS series is the newly developed
GENOS M460-VE Vertical Machining Center

The GENOS M460-VE has a table size of 1,000 × 460 and a No. 40 spindle, and takes on the basic design of the best-selling MB-V vertical machining center. It is already earning high praise for its outstanding accuracies with the Thermo-Friendly Concept, its highly rigid double-column configuration and diagonal rib structural casting, and its simplicity and ease of use. We offer the GENOS series with the hope that a wider range of customers than ever will be able to experience high quality, highly functional machining.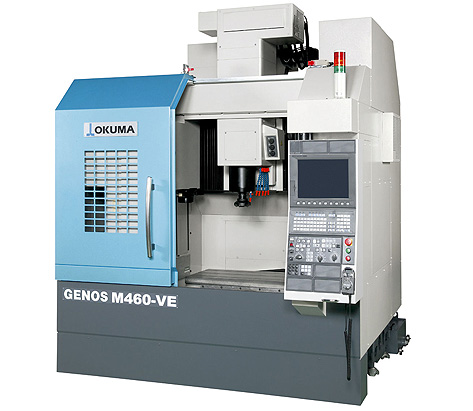 GENOS M460-VE
Vertical Machining Center