Message From The President
About Okuma
Message From The President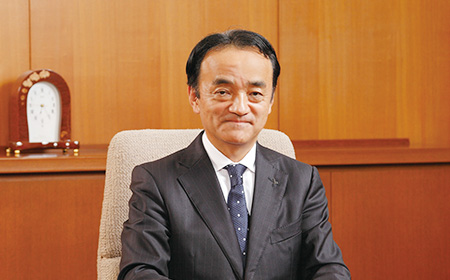 Striving to be the World's Best Comprehensive "Monozukuri" Service Company
Since our founding in 1898 as a company that manufactured and sold noodle machines, we have inherited a pulsating and uncompromising spirit to deliver what you do not have, but you do need, by "making something from nothing."
Okuma started manufacturing machines tools in 1904, has continuously developed advanced technologies and products for over 120 years since its foundation.
In 1963, Okuma became the first Japanese machine tool manufacturer to develop in-house an NC control, the OSP, and market its technical leadership in mechatronics as Your Single Source for Machine & Control. In addition, while digitizing a wealth of engineering and experience into hi-tech, Okuma's Intelligent Technologies represent a merging of M-E-I-K (Mechanics - Electronics - IT - Knowledge creation), a forerunner to AI. And that has evolved into Okuma's smart machine which can autonomously judge and lead performance to optimum levels.
At present, efforts are accelerating to innovate manufacturing globally, and there is a need to build smart factories that optimize overall plant effectiveness (OPE) in production by using AI, IoT, big data, and so on. In addition to machine tools, Okuma will provide various solutions that encourage innovation in manufacturing, and we will strengthen our "comprehensive monozukuri service" to support the customer's entire manufacturing process.
We look forward to the continued and growing patronage of our world community of customers.
"Monozukuri": making things (better than ever);
where master craftsmanship meets cutting-edge technology
Atsushi Ieki
President
Okuma Corporation