About Okuma
Message From The CEO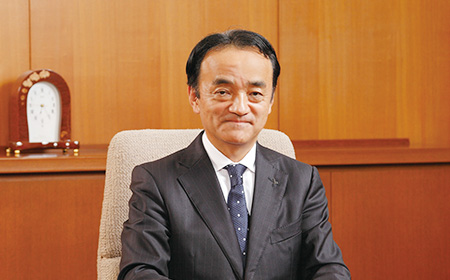 Mission Statement
Through total and consistent monozukuri* service, Okuma aspires to contribute to the business of customers throughout the world who create value, and thus bring happiness to all people who journey together with us.
Okuma will mark the 120th anniversary of its establishment in January 2018. Okuma was set up in 1898 to produce and sell noodle making machines, and started manufacturing machine tools in 1904. It has now become a comprehensive machine tool manufacturer. I want to express my sincere gratitude to all those involved, including our customers, as we owe our great success to those people's assistance.
Since its foundation, Okuma has been pursuing the potentials of products and technologies based on the policy, "develop products by ourselves if there are no such products in the world," so that we can help improve productivity of our customers. Okuma develops not only machines but controllers on its own by our technology that combines mechanical design, electronic control, information management, and intelligent technology Taking advantage of that strength, we have been contributing to customers' productivity improvement by developing innovative products and intelligent technologies.
Production innovation based on the Internet of Things (IoT) has recently been progressing in many countries throughout the world, increasing demand for high value-added machine tools and advanced technologies.
To become the world's leading "comprehensive monozukuri service" company, Okuma will comprehensively propose various products and services from smart machines that autonomously optimize their machining processes to the establishment of smart factories where production at the entire factory is optimized.
We look forward to your continued patronage.
*"monozukuri": the art of making things better than ever
Yoshimaro Hanaki
President & CEO,
Okuma Corporation