Okuma-Built Controls,
Motors, Drives and Encoders
The technical combination of these Okuma-built components, creates the foundation of accuracy that all computer numerical control (CNC) machines require. The harmonious communication between these units not only allows Okuma machine tools to have some of the highest metal removal rates, but also gives positioning repeatability in the single digit micrometer range. Day in and day out, even in the most unpredictable environments, Okuma's complete drive system package delivers perpetual strength and accuracy.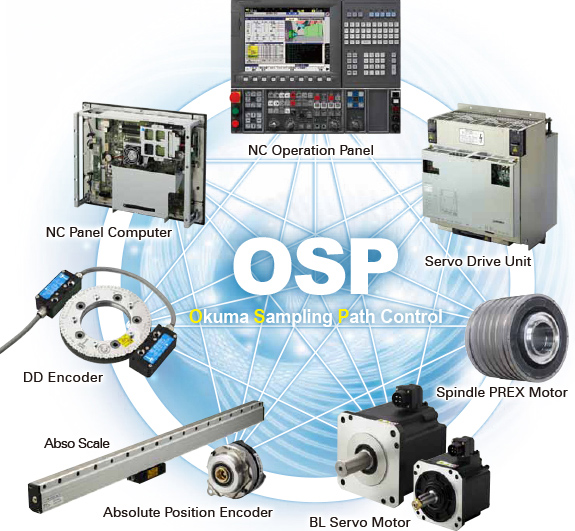 The absolute position feedback system,
which retains the current position even if its power is cut off, is a fundamental part of Okuma's numerically controlled machines that has been passed down to the present era.
An NC machine (OSP III) utilizing an absolute position feedback system was developed in 1963, marking Okuma's debut as Japan's only mechanical-electronic manufacturer producing both machine tools and NC devices. The absolute position feedback system, which is capable of sequence return (upon restart of machining that has been stopped partway through) so zero return setting is not required, was an essential and fundamental feature from the customer's point of view. However, commercial-use semiconductor memory products were not available at that time, so absolute position feedback with current position memory even if the power was cut off was still a mere dream. Okuma, a company constantly in pursuit of the highest ideals in machine tools, achieved this dream thanks to its willpower and pride as an organization that had been keeping a watchful eye on the manufacturing industry.
In the current battery-free absolute position feedback system, even if the power supply is cut off for a long period of time, and even if during that time positioning is changed, this reliable and secure system will not lose the original current position.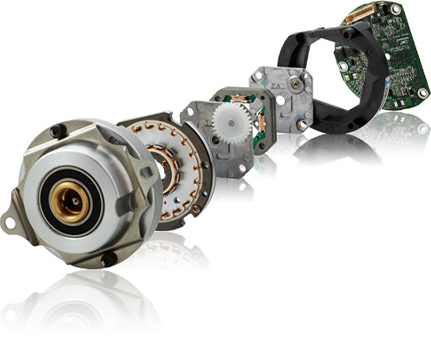 Flexible software responds smoothly to changing needs.
We believe it is the job of the machine tool manufacturer to create NCs that can respond to needs throughout the life cycle of a machine tool.
In 1972 we developed the OSP2000 series of NCs with built-in minicomputers—the world's first commercial computerized NCs (CNCs).
In 1970 NCs were "hard-wired NCs" with circuits designed, wired, and assembled specifically for the machine to be controlled. This meant that changing specifications or adding options took a huge amount of time. Replacing these circuits with software made it easy to change specifications or add optional functions.
Flexible software was planned with the expectation that customers' operating methods and machining techniques would change over the years they used a machine tool. This was a very forward-looking way of thinking in the days when these CNCs were developed.