Case Studies
Okuma—A comprehensive CNC machine tool manufacturer.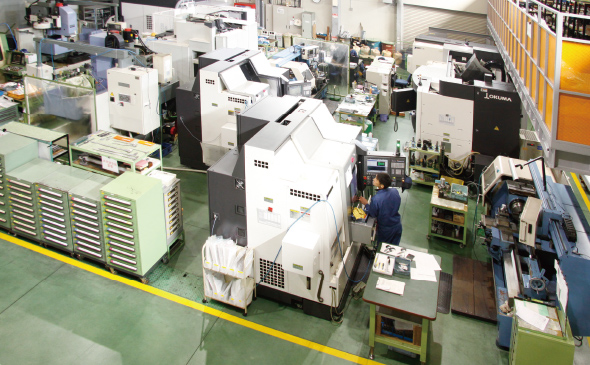 Industry

Aerospace
ATSUTA KIGYO Co., Ltd.
Issues

Highly efficient production of over 2,000 types of aircraft and rocket airplane parts

We looked around the factory to see if there were any abnormalities in the machinery, and searched for ways to effectively increase machine operating rates.

Effectiveness

Improving work flow lines by connecting with 5S activities
(Sorting, Setting-in-Order, Shining, Standardizing, Sustaining the Discipline)
Average machine operating rates increased by 44%

With the installation of the AI-equipped MU-8000V-L 5-axis machining center, 5 units were connected using Okuma's Connect Plan; so the factory became an IoT operation.
By collecting data, analyzing, and executing, it was possible to take orders for quick delivery parts by taking advantage of pocket times.
The number of deliveries, which was 300/month without additional machinery, increased more than 1.5 times to 450-500/month.
Impressions using the Okuma machines
Our first Okuma machine was installed in 2013. At the time, we were considering a multitasking machine to finish aircraft parts that required multiple processes with one chucking, and we installed the MULTUS B300II Intelligent Multitasking Machine. For the factory manager, the "machine rigidity" was the decisive factor. When machining difficult-to-cut materials like Inconel, subtle vibration is a "great enemy" of dimensional accuracy. It also shortens the tool life and naturally increases costs, as well as making tool change times longer. Furthermore, with thermal deformation control, the machining dimensions are stable and work can be done efficiently even when the operator must leave the machine. For those reasons, the shop floor operators are really happy that we chose Okuma.
Customer Information
ATSUTA KIGYO Co., Ltd.
Head Office

4-1-1 Fukufune-cho, Nakagawa-ku, Nagoya, Aichi Prefecture
Website
Incorporated

1956
Business

Aerospace(equipment parts machining, manufacturing of jigs and machining fixtures, manufacture and sale of various standard jig and tool parts)General machined parts (jigs, industrial machinery, special machine parts, etc.), machining difficult-to-cut materials, thin-parts, various machining processes
Employees

39
Okuma Products/Technology
Learn more from the customers in the USER'S VOICE Vol. 12 pamphlet.
Also see the Okuma product brochures.
• Member registration (free) is required for downloads.