Machine Status Logger & Cutting Status Monitor
Technology & Solutions Okuma Smart Factory

Cutting Status Monitor
This detects abnormalities in machining and executes an
automatic stop, reducing loss and also protecting the machinery
and tools.
With data during normal machining used as a reference, deviation from the reference due to a tool abnormality or the like results in a machine stop (alarm stop, slide hold, and retraction are possible). This prevents occurrence of defective pieces as well as preventing damage to the machine or tool.
User benefit
The machine can be stopped after retracting the tool from the workpiece, thereby minimizing damage to the workpiece.
* An OSP-P300A optional function.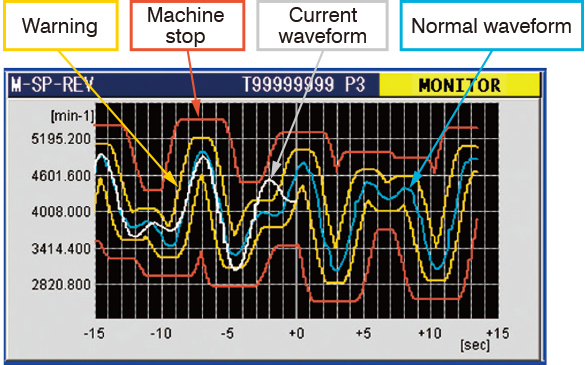 Machine Status Logger
Recording machine data such as spindle load and override
operation for use in traceability and investigation of causes when
an abnormality occurs.
This records programs and trace data that includes spindle and feed-axis load data and data from external sensors, and also records its relationship to event data such as information on operation. This makes it easy to track NC data as traceability data.
User benefit
This also records zero-point numbers, amount of zero offset, tool compensation numbers, and other operation data. This is useful when investigating defect causes.
* An OSP-P300A optional function.