Technology & Solutions Okuma Smart Factory

Features
Moving ahead with factory DX, achieving improvements in productivity!
Eliminate work mistakes by accessing OSP data directly from an Excel® spreadsheet.
By sharing Excel created work procedures, other operators can do the same job.
With the results of work done reflected in an Excel worksheet, the accumulated data can become a reference of accurate quality records.
One-Touch Spreadsheet is one of the OSP-P300A options that allows you to set and refer to program selection, compensation and variable data, and other CNC operations from Excel spreadsheets in the OSP control.
With Excel spreadsheets, you can create dedicated apps that incorporate your machining know-how.
For work routines that varied per individual, now any operator can run the same job with shared Excel created work procedures.
Okuma's One-Touch Spread enhances DX (digital transformation) in the customer's factory and improves productivity.
One-Touch Spreadsheet includes the software itself and a DVD with a collection of sample worksheets.
* Excel is a registered trademark of Microsoft Corporation in the United States.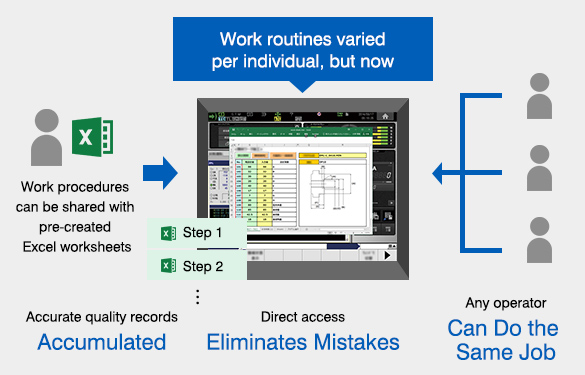 Use case 1: Program selection of similar-shaped parts using a code reader
Problems

Even if similar shapes have been machined before, part programming required every time.
Gathering information is time consuming because part nos. and program name setup sheets must be checked every time.
When selecting a program, the incorrect one may have been selected.
One-Touch Spreadsheet Benefits

Using the part program number as a variable input for the setup sheet eliminates repetitive reprogramming.
With a program selection sheet that uses a code reader, any operator can easily call up the correct program.
STEP1

Call up One-Touch Spreadsheet to input variables and select a program.

STEP2

After inputting the drawing no. into the variable, scan the code with a code reader connected to the OSP control to automatically select the required program.

STEP3

Start machining!
Use Case 2: Creating a machining test chart
Problems

We want to keep workpiece measurement histories, but that's time consuming because inputs for the computer for each measurement is required.
Incorrect numbers ​​may be entered.
Learning measurement methods and making test charts is required.
One-Touch Spreadsheet Benefits

By creating worksheets to collect measurements, their histories can be maintained error-free.
Since the data are in Excel worksheets, they can be easily graphed and saved as machining test charts.
By describing the measurement procedure in a spreadsheet, any operator can perform the same operation.
STEP1

Call up the measurement worksheet and perform the measuring procedure as described.

STEP2

Read the measurement into the measuring worksheet.
A test chart will be generated automatically.

STEP3

The measurement worksheet of the test chart can be stored in the OSP control or in the office.