Wide Y-axis travel balanced with excellent workability
Ideal work envelope for medium and large-size parts machining

Y-axis travel : 1,050mm

For medium and large parts, and large plastic mold manufacturing, with 800mm table, and 1,050mm Y-axis travel
Best-in-class floor space productivity

X-axis travel : 1,600mm
Y-axis travel : 1,050mm
Table size : 1,600×800mm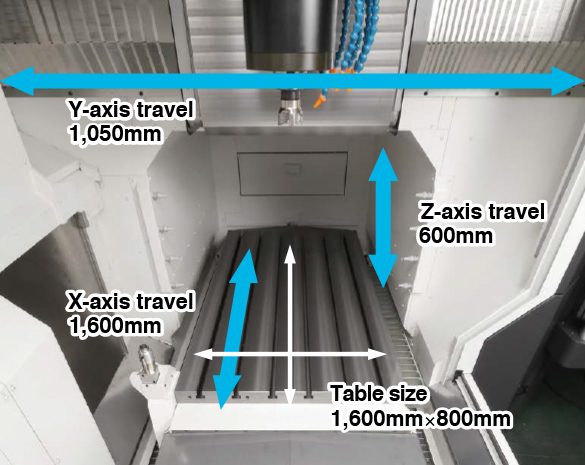 Outstanding table and spindle access provide excellent workability

Easy access to table and spindle

Access to spindle : 220mm
Access to table : 345mm
Table height : 900mm
Front door opening : 1,620mm

Max workpiece

Size : 1,600 × 800 × 600mm (L × W × H)
Load mass : 2,500kg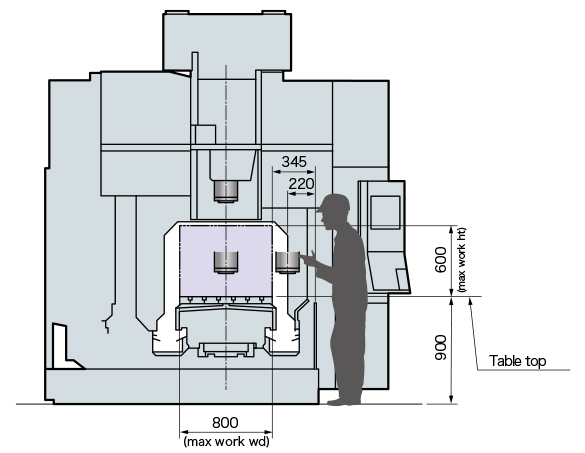 Highly efficient machining of die/mold and
semiconductor manufacturing equipment parts
Wide spindle lineup provides the right match for general machinery
to die/mold and aluminum parts applications

Wide-range spindle (No.40)

Highly efficient general machine part applications

Spindle speed : 15,000min-1
Max output : 26/18.5kW (10 min/cont)
Max torque : 199/146N - m (5 min/cont)
Tool
Spindle
min-1
Cutting
m/min
Feed rate
mm/min
Width
mm
Depth
mm
Chips
cm3/min
ø100 face mill
5 blades (carbide)
955
300
1,429
70
4
400
ø50
insert drill
606
95
90.9
-
-
-
Tap
M30P3.5
240
23
840
-
-
84%(Spindle load)
(material : S45C)
Tool
Spindle
min-1
Cutting
m/min
Feed rate
mm/min
Width
mm
Depth
mm
Chips
cm3/min
ø63 face mill
5 blades (carbide)
15,000
2,969
8,523
44
4
1,500
(material : A5052)
High-speed spindle (No.40)

Mainly for aluminum (Optional)

Spindle speed : 20,000min-1
Max output : 30/22kW (10 min/ cont)
Max torque : 57/42N - m (10 min/ cont)
Power spindle (No. 40/50, roller bearings)

Roughing and finish of dies&molds(Optional)

Spindle speed : 12,000min-1
Max output : 33/26kW (10 min/ cont)
Max torque : 302/148N - m (10% ED/cont)
Tool
Spindle
min-1
Cutting
m/min
Feed rate
mm/min
Width
mm
Depth
mm
Chips
cm3/min
ø100 face mill
5 blades (carbide)
955
300
1,910
70
5
669
ø20 roughing end mill,
7 flutes (carbide)
4,000
251
9,520
20
3.7
704
(No. 50 high power spindle, material: S45C)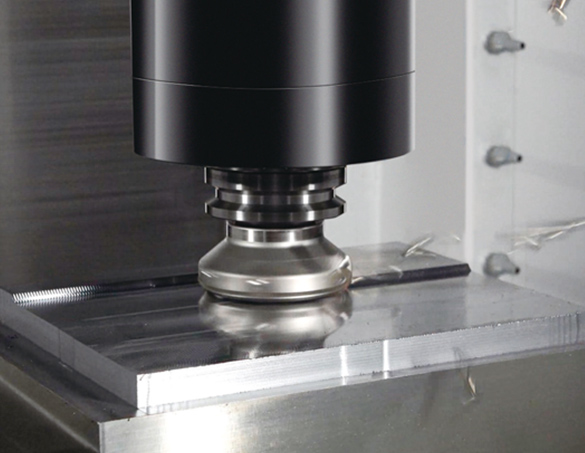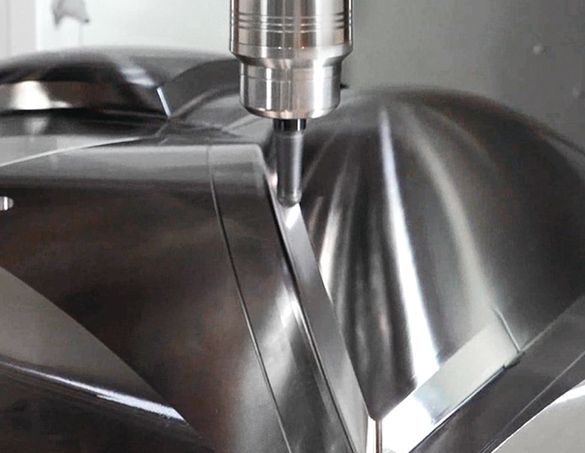 Delivering longer unattended operations
Large amounts of aluminum chips also cleanly removed
Wide in-machine chip conveyor
Crossrail shower system (Optional)
In-machine vertical covers prevent chip accumulation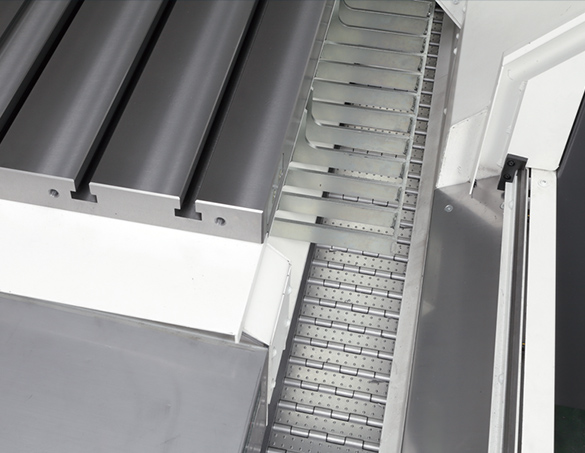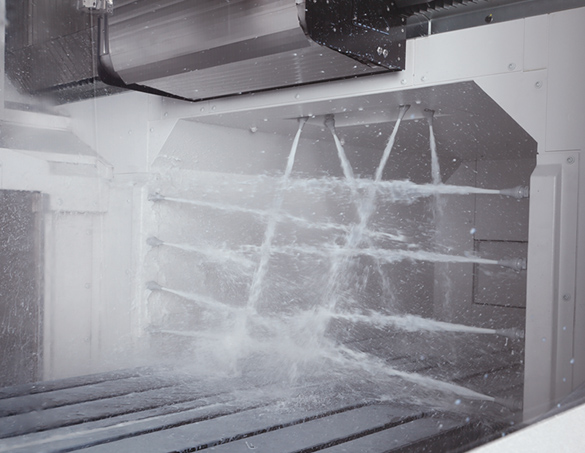 "Working with temperature changes"
Thermo-Friendly Concept

The "Thermo-friendly" concept enables remarkable machining accuracy through original structural design and thermal deformation control technology.
If frees you from troublesome dimensional compensation and warm-up. Exhibits excellent dimensional stability even during consecutive operation over long periods and environmental temperature change in the plant.
Achieving high die/mold surface quality machining
Hyper-Surface (Optional)

Auto machining data compensation, easy and improved die/mold surface quality

Modifying CAM machining data is not required.
Ridgelines and uneven surface edges are reduced,the machined surface quality is improved, and hand-polishing times are eliminated. In addition to the Sculptured-Surface Adaptive Acceleration Control featured in the previous Super-NURBS function, the new Hyper-Surface — while maintaining the required shape accuracy — automatically compensates for those edges and adjacent cutter path positioning errors caused by remnants of "disturbances" found in the CAM machining data.
Machine Specifications
Item
Unit
MB-80V
No. 40 spindle
No. 50 spindle
Travels
X axis (table L/R)
mm (in.)
1,600 (62.99)
Y axis (spindle saddle front/back)
mm (in.)
1,050 (41.34)
Z axis (spindlehead vertical)
mm (in.)
600 (23.62)
Table top to spindle nose
mm (in.)
200 to 800 (7.87 to 31.50)
Table
Table size
mm (in.)
1,600 × 800 (62.99 × 31.50)
Floor to table top
mm (in.)
900 (35.43)
Max load capacity
kg (lb)
2,500 (5,500)
Spindle
Speed
min-1
15,000
[12,000、20,000]
12,000
Speed ranges
Infinitely variable
Tapered bore
7/24 taper No. 40 [HSK-A63]
7/24 taper No. 50
Bearing dia
mm (in.)
ø70 (ø2.76) (12,000min-1 spindle is ø90)
ø90 (ø3.54)
Feed Rates
Rapid traverse
m/min
X·Y : 42, Z: 32
Cutting feed rate
mm/min
X・Y・Z :32,000
Motors
Spindle
kW (hp)
26/18.5 (35/25) [33/26 (43/35) , 30/22 (40/30)]
33/26 (43/35)
Feed axes
kW (hp)
X5.2 (7), Y· Z: 3.5 (4.7)
Auto Tool
Changer
Tool shank
MAS403 BT40[HSK-A63]
MAS403 BT50
Pull stud
MAS 2
Magazine capacity
tool
32 [48, 64]
Max tool dia (w/adjacent tool)
mm (in.)
ø90 (ø3.54)
ø100 (ø3.94)
Max tool dia (w/o adjacent tool)
mm (in.)
ø125 (ø4.92)
ø152 (ø5.98)
Max tool length
mm (in.)
400 (15.75)
Max tool mass
kg (lb)
8 (17.6)
12 [15] (26.4 [33])
Max tool moment
N-m (ft-lbt)
7.8 (5.7)
15.3 [19.1] (11.2 [14.0])
Tool selection
Memory random
Machine Size
Height
mm (in.)
3,320 (130.71)
Floor space
mm (in.)
4,500 × 2,970 (177.17 × 116.93)
Mass
kg (lb)
16,750 (36,850)
17,000 (37,400)