MULTUS U Series of Intelligent Multitasking Machines
honored in 56th (2013) Best 10 New Product Awards

06 Jan 2014
Okuma's MULTUS U Series of intelligent multitasking machines received the Monozukuri Prize at the Nikkan Kogyo Shimbun's (Business & Technology Daily News) 2013 Best 10 New Product Awards. Best 10 New Product Awards are given to selected products for their contributions to the development of manufacturing and strengthening of Japan's international competitiveness. Winners are chosen from among all products developed and in practical use in a given year. This is Okuma's tenth product to receive the Monozukuri Prize.

MULTUS U Series multitasking machines can handle a wide variety of workpieces with an orthogonal 3-axis construction. They offer a large working range (1.3 times that of previous models), having a maximum Y-axis travel of 300 mm, and a total of 17 types of spec extension, including lower turret, opposing spindles, and longitudinal extensions.

Their machining performance rivals that of machining centers, with milling of 602 cm2/min and turning of 5.0 mm2 (S45C; 1.7 times that of previous models). This is achieved with a highly rigid structure that maintains its integrity even with difficult-to-machine materials. Use of the Thermo-Friendly Concept makes it possible to keep dimensional changes to within 10 μm in room temperatures changes up to 8°C, maintaining stable machining accuracies over long times.

The series combines machining performance and ease of use from OSP-P300S, which offers Easy Operation, and the Collision Avoidance System.
MULTUS U Series machines are the ultimate multitasking machine. They bring together everything you could want—high accuracy, high rigidity, high functionality, and integrated operations—in a single machine.

→ Click here for new product information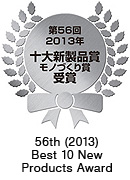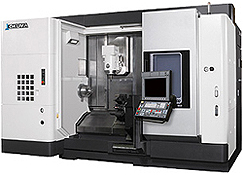 MULTUS U 3000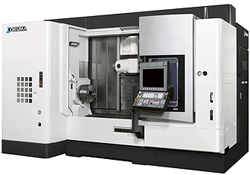 MULTUS U 4000
Optional operation panel with 19-in. display (Standard in certain markets.)
Best 10 New Product Award History at Okuma
56th Awards (2013)
MULTUS U Series of intelligent multitasking machines
46th Awards (2003)
MA-H horizontal machining center