VTM-2000YB 5-axis vertical multitasking machine achieves high accuracy "turning + 5-axis" machining

17 Oct 2013
Okuma has launched the VTM-2000YB 5-axis vertical multitasking machine that combines a vertical lathe and a 5-axis machining center to achieve true process-intensive machining.

The new VTM-2000YB is a large vertical multitasking machine with a maximum turning diameter of φ2,000 mm. This is a truly process-intensive machine that covers needs from powerful multitasking with milling stock removal of 1,000 cm3/min (S45C) and turning capacity of OD cutting of 6.5 mm2 (S45C).

Axis movements are those of a complex 5-axis multitasking machine, but ease of use of is provided with "Easy Operation" OSP-P300S and the Collision Avoidance System gives a strong sense of assurance. The Thermo-Friendly Concept is also used for outstanding dimensional stability.

The VTM-2000YB, together with the previously launched VTM-1200YB, brings together the most advanced technologies to achieve high-accuracy 5-axis machining, innovating production of large, complex-shaped parts for the aerospace and energy industries and more.
→Click here for information on the VTM-2000YB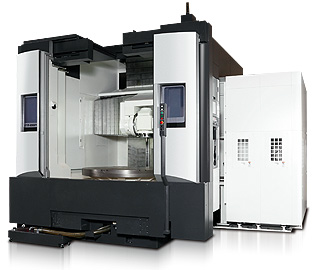 VTM-2000YB