Case Studies
Okuma—A comprehensive CNC machine tool manufacturer.
Achieving dimensional stability of less than 10 microns over time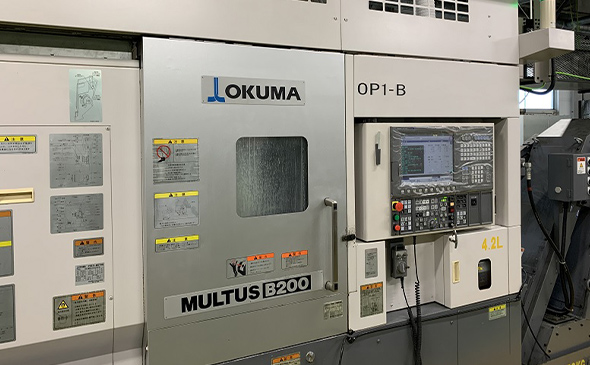 Industry

Outdoor power equipment (OPE)
Yamabiko Corporation
Issues

Dimension compensation required many times a day

With 4 VMCs and 2 CNC lathes on a dedicated production line, setup changes are time consuming.
Warm-ups are required, and thermal deformation along the Z/Y axes vary.

Implementation

Changed to continuous processing with 2 multitasking machines.
Using Thermo-Friendly Concept to achieve stable accuracies even with continuous long runs.

Effectiveness

Stable dimensions even during long continuous runs

There was no need to make dimensional corrections, and after full operation for 24 hours, there were no problems with post-process operations.
The User's Voice
What was really encouraging when we installed the MULTUS was that when something went wrong, we were able to immediately analyze the cause and solve it, without being restricted by product manufacturer access limitations.
We could see from Okuma that "the purpose is not to sell machines, but to find value in supporting the manufacturing needs of the user."
Perhaps their Intelligent Technologies such as the Thermo-Friendly Concept and Collision Avoidance System were born from such a corporate culture.
Customer Information
Yamabiko Corporation
Head Office

1-7-2 Suehirocho, Oume, Tokyo
Website
Incorporated

December 2008
Business

Manufacture and sale of outdoor power equipment, various machinery (agricultural, industrial)
Employees

3,372 

(As of the end of December 2019/consolidated)
Okuma Products/Technology
• Linked pages may show later models.
Learn more from the customers in the USER'S VOICE Vol. 9 pamphlet.
Also see the Okuma product brochures.
• Member registration (free) is required for downloads.