Nabeya Bi-tech Kaisha (NBK)
Case Studies
—Why Okuma was chosen
Okuma's MU-V Series has become an indispensable force
for shaft hole machining services that require ultra-short delivery times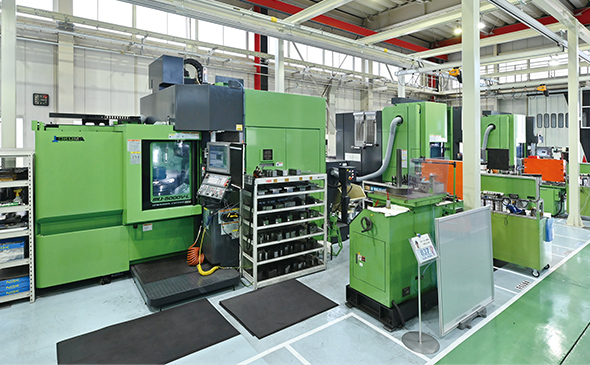 Industry

Development, manufacturing, and sales of machine elements
Nabeya Bi-tech Kaisha (NBK)
Machine Shop Issues
Additional machining for engineering fit shaft and hole
pairing requires skill and time,
but improving productivity is essential to maintain short delivery times.
Until recently, we used several of our own dedicated equipment and drilling machines to perform pilot holes, turning, tap threading, etc., but the many operations that require skilled machinists for diagonal holes and other jobs made it difficult to shorten cycle times. "How could we increase productivity amid rising demand for additional machining services?" ...
The Okuma machines we selected to solve these issues.

The decisive factor for installing the MU-V machines
After confirming the machining accuracy, work envelope, cycle times, operability, and workability, we were confident that the MU-Vs would improve quality and productivity.
Based on the typical requirements of additional machining, we focused on "going with 5-axis machines if we install new equipment," and compared the products offered on the websites of various manufacturers. My boss recommended that I see the actual Okuma machines, so I visited Okuma to closely check the machining accuracy, work envelope, cycle times, ease of use, and workability.
After comparing the machining quality, workability, and cost with other company 5-axis machines, we decided that "Okuma's MU-V would be the most suitable overall."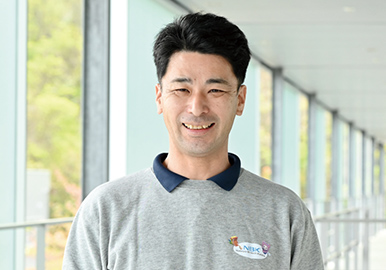 Results after Installation
Parts machined per day increased from 35 to 60.
Operator move time required between the drilling machine and the lathe, and part load/unload time was reduced, and actual cycle times greatly improved. The target is machining 70 parts per day.
Cycle times reduced 1/2 ~ 1/3
The 15-to-20-minute cycle times done on the previous line have been reduced to 5 to 10 minutes with the MU-V.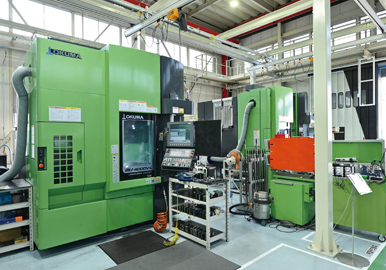 Impressions after installation
Responding to ever-increasing additional machining requirements by significantly reducing cycle times
Before installing the MU-V, we used three machines for prepared hole drilling, turning on a lathe, and boring to provide our shaft/hole additional machining service, completed within one day after receiving the order. Now, all that is possible on one MU-V, and cycle times which used to take 15 to 20 minutes per workpiece, has been halved from 10 to 5 minutes by the MU-V. In addition, the previous production line had a machining limit of 35 pieces per day, but now that has been increased to around 60 pieces a day.
Truly operator friendly
This was our first 5-axis machine, and only the younger NC lathe operators had previously used Okuma machines. We were worried about effectively using the new equipment, but after the introductory course, operations went smoothly. Access to both machines is very good, and setup jobs are burden-free for the operators who load/unload parts dozens of times a day.
In addition, since Okuma's 3D Virtual Monitor can pre-check for interference on a personal computer, the prep time before actual machining has become much shorter. Okuma's Collision Avoidance System (CAS) can also provide interference checks on the operation panel for worry-free operations to help improve initial part setup productivity, which was previously done with slower feed rates. It also helps to be able to check machining accuracy measurements, maintenance information, and instruction manuals on the large operation screen at the machine.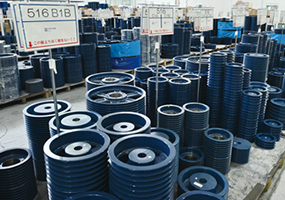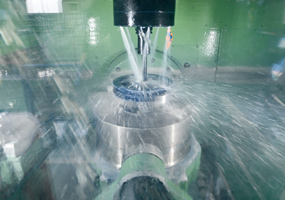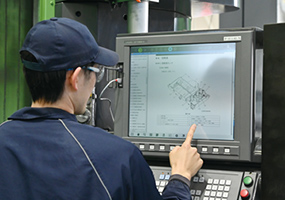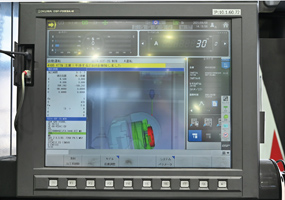 Customer Information
Nabeya Bi-tech Kaisha (NBK)
[Seki City, Gifu Prefecture, Japan]
Website
Founded in 1560, when Nobunaga Oda won the battle of Okehazama, castings for pots, kettles, lanterns, and other ceramics were made. In 1940, the company was reorganized to develop, manufacture, and sell machine elements for transmissions, control components, positioning and handling mechanisms, and grew into a global enterprise that provides solutions for casting applications. Based on the philosophy that "good products are born from a good environment," we are creating advanced products and services at factories surrounded by abundant nature.