Okuma Technology Premium Solutions
Auto machining data compensation, easy and improved die/mold surface quality

Hyper-Surface, in addition to the Sculptured-Surface Adaptive Acceleration Control featured in the
previous Super-NURBS, detects CAM-output machining data "disturbance," and corrects that on the
Okuma CNC to improve surface quality while maintaining the required shape accuracy.
Production floor issues

Machining data command-point
disturbance adversely affects
surface quality

・Machining data variations result in scratches on the machined surface.
・Correcting the supplied data is difficult.
・Removing cutter marks by hand finishing and polishing is time consuming.

User benefits

Better surface quality without modifying the machining data

・Eliminates the time required for hand finishing.
・Reduce scratches and uneven edges.
Eliminating variations in command position and feed rate improve machined surface quality
Automatically corrects for small variations in machining data command positions of output from a CAM processor.
And passing speeds for each cutter path at corners are made consistent.
That stabilizes feed rates and improves surface quality.
Conditions
Tool
Spindle
speed
[min-1]
Feed rate
[mm/min]
Pick feed
[mm]
Cutting
depth
[mm]
Scan-line
machining
ø10-mm ball
end mill
15,000
6,000
0.2
0.1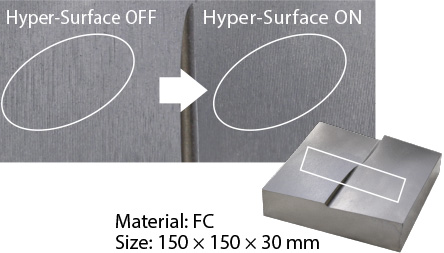 Aligning adjacent cutter paths, reducing ridges
Correcting uneven spaces between adjacent cutter paths, and reducing inconsistent valley depths and edge widths.
Tool
Spindle speed
[min-1]
Spindle feed rate
[mm/min]
Pick feed[mm]
Depth of cut
[mm]
ø30-mm ball
end mill
10,000
5,000
0.5
0.1