Technology Premium Solutions

World's first application to stop machine tool idling

ECO Idling Stop
Features
Machine itself determines when to stop. Cooler is turned off while high accuracy is still maintained
(Standard application on machining centers and multitasking machines equipped with Thermo-Active Stabilizer - Spindle (TAS-S))
Energy-saving system that uses the Thermo-Friendly Concept intelligent technology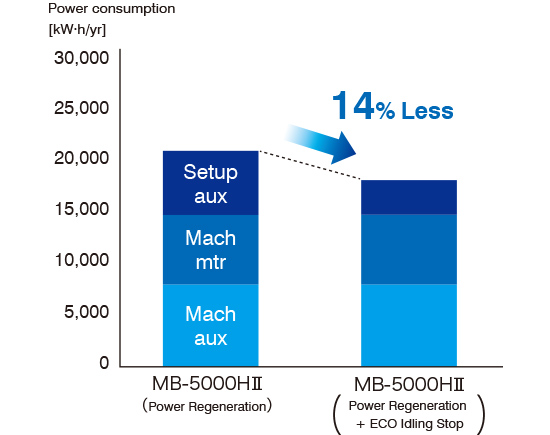 Benefits
The benefits of ECO Idling Stop increase with longer machining preparation times
ECO Idling Stop carefully stops unnecessary peripheral equipment to dramatically decrease the power consumption when the machine is not cutting.
Decrease in power consumption for one month (example)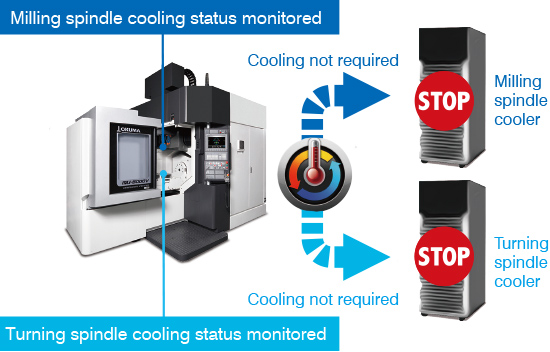 See the benefits of saving energy--right at the machine.

ECO Power Monitor
Features
Visual graphics of power consumption raises awareness of energy usage
Power consumption is displayed individually for spindle, feed axes, and peripheral equipment. The energy-saving benefits of peripheral equipment that has been stopped with ECO Idling Stop can be seen on the operation screen.
Minimize unecessary pump rotation during dwell pressure applications.

ECO Hydraulics
Features
The ultimate energy-saving hydraulic unit with super low speed, noise, and vibration
Accurate control is achieved with super low rotation speed by combining the servo control technology used on machine tools and high-efficiency hydraulic pumps. Pump rotation is optimized to match operating status.
Benefits
Compared with previous unit 63% reduction in power consumption
Power consumption dwell pressure

Peripheral equipment runs only in the necessary amount and at the necessary time

ECO Operation
Features
Chip conveyors, mist collectors and other equipment are automatically stopped after cutting is finished.
The machine performs energy-saving operation automatically.