Technology & Solutions Okuma Smart Factory

Features
The OSP Virus Protection System (OSP-VPS) embeds a virus scanning application programming interface (VSAPI) from Trend Micro in Okuma OSP-P controls to prevent infection by viruses from networks or USB flash drives.
Reliability
Prior to distribution of virus pattern file and search engine updates, operations are verified in advance by Okuma to prevent CNC software detection errors.
Maintainability
The system issues an alarm (D) when a virus is detected.
On the display screen, the user can easily check the corrective actions taken.
Safety
Virus scans are performed after completion of automatic and MDI operations to prevent slowing of screen responses due to scheduled virus scans. (Real-time scans continue even during automatic and MDI operations.)
Usability
Pattern file and search engine updates can be done either manually via the user's PC or automatically via the Internet.
*Trend Micro are registered trademarks of Trend Micro Incorporated.
Advantages of using OSP-VPS
Case 1: User in die/mold machining business
Because machining is done by DNC-DT, the machine and server are connected to a network.
The notebook computer of an employee returning from outside the company is infected with a virus, and the infected computer is connected to the network.
The virus from the notebook computer tries to infect the machine, but is prevented from doing so by OSP-VPS.
The machine is finishing a die, and completes the operation without any effect from the virus.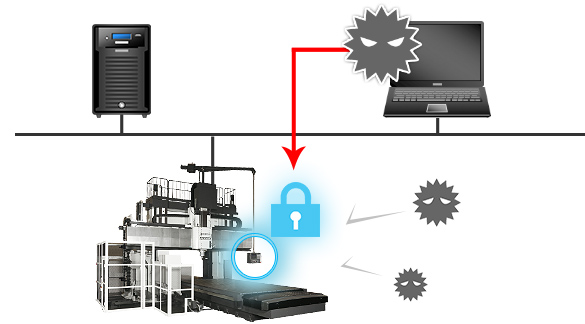 Case 2: User in parts machining business
A USB memory stick with machining data is received from a client, but the memory stick also contains a virus.
Immediately after the USB memory stick is inserted into the machine, OSP-VPS detects and isolates the virus contained in the memory stick.
The machining data from the client is read into the machine without problem.
The USB memory stick is returned to the client without a virus.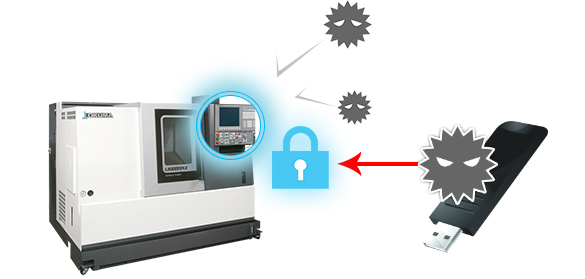 If data is never received from or delivered to the outside, there is no worry about virus infection of a machine.
When USB memory is used or the machine is connected to a network, data can be received or delivered with assurance if the machine is equipped with OSP-VPS. The security level can be raised even further if customers are asked to take security measures for data media and computers.
Pattern file update methods
On the OSP display screen, users can switch between two pattern file update methods.
Pattern file update licenses are valid for three years.
Online update
Updates through direct connection to distribution server managed by Okuma.
This option can be used for machines that can be connected to the Internet.
Offline update
Updates through the user's PC or USB memory.
This option can be used for machines not connected to a LAN or closed LAN.