Highly Efficient Production for Mass Customization
Okuma Smart Factory

Okuma Corporation and Hitachi, Ltd. began this collaboration to construct an advanced model of highly efficient production that delivers mass customization, and launched the actual proof of that at Okuma's newest factory; Dream Site 2. This represents a commitment to make and innovate highly efficient production models of the entire manufacturing process from machining to assembly — with service support — for the next-generation.
The manufacturing environment today
In recent years diversified needs, rapid digitization, and intensified global competition are requiring the manufacturing industry to respond not only with high-mix, low-volume (HMLV) production, but with mass customization at levels of productivity equivalent to mass production.
Of their various applications, machine tools are typically used in HMLV production, which manufactures parts by machining and assembling thousands to tens of thousands of parts because of the wide variety of personal customer preferences. Designing the "ultimate model of highly efficient production" that makes "necessary items, when necessary, as much as necessary" is the most important task in dealing with mass customization. In addition, responding to orders requiring quick turnarounds, and accepting delivery or specification changes require having a solid grasp of production progress and equipment operating status in real time, in order to quickly change production plan and work order cycles.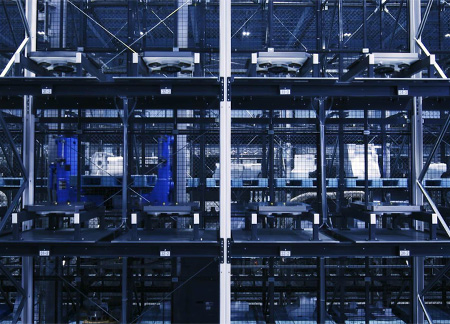 Striving to deliver smart factories
In 2013, Okuma launched a new factory — Dream Site 1. The know-how and experience gained from building DS1 evolved into the construction of a more advanced "factory of the future" (FoF). Thus the three key elements of the DS2 parts factory: ① improving productivity through automation, unmanned operation, intelligence, and process-intensive machining, ② faster factory control cycles, and ③ evolution of production visualization. In other words:
① by effectively using robots and automatic guided vehicles with Okuma smart machines as the core component, ② by improving fast-cycle capability for stronger competiveness, and ③ by implementing a visual management system in DS2 as a working model of mass customization; through collaboration with Hitachi.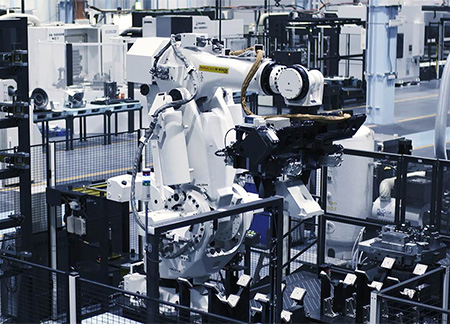 Hitachi, Ltd. is a company with a thorough knowledge of manufacturing, and it also possesses the know-how to control production lines and plant operations as a whole. By combining the expertise developed at its Omika Works plant with Okuma's know-how from DS1, Hitachi has also built and now operates a factory of the future.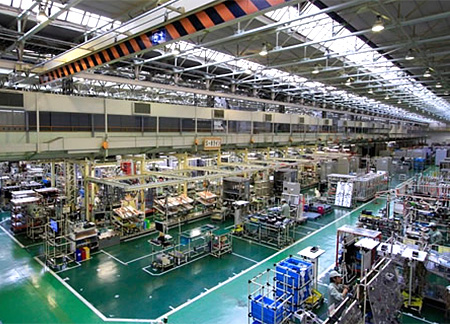 A working model of know-how infused into highly efficient production
With "faster factory control cycles" and "evolution of production visualization," Okuma and Hitachi merged their expertise into the new DS2 factory to demonstrate how an effective model of highly efficient production actually delivers mass customization.
Faster factory control cycles
Also in DS2 is a process management system that uses Work ID (workpiece identification tags), so the locations and status of all parts in the factory can be accurately known and controlled. By fully implementing IIoT, work orders previously based on daily timetables are now more accurately updated to the hour or minute – which effectively supports agile manufacturing. Moreover, a progress/operation monitoring system improves the accuracy of production floor conditions to locate bottlenecks and provide quick solutions.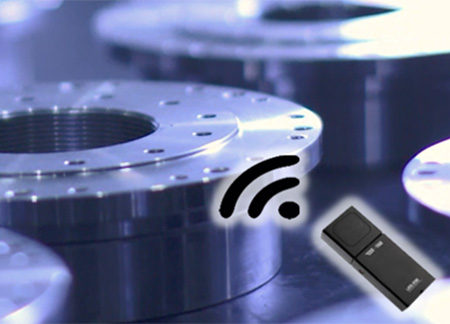 Evolutionary production visualization
IIoT helps operators see and understand the current status of equipment operation. Production progress data are also integrated to unify the monitoring and visual management system. In addition, a system was developed to provide high-quality analytics of the data collected. This makes it possible to speed up all production processes by pinpointing bottlenecks (delayed pre-process, equipment failure etc.) in order to keep the factory operating at full capacity.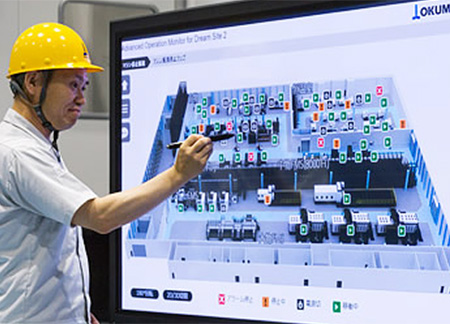 As a follow-up to DS2, Okuma is considering more of these production models for its other manufacturing bases, along with providing the know-how and high value-added machine applications gained as "manufacturing service" solutions for industry. In addition, Okuma and Hitachi, as partners in business, are reviewing ways to provide these collaboration models as service business platforms for other partners in industry.