Okuma Smart Factory

Get started with the Connect Plan

Connect, Visualize, Improve
Okuma's Connect Plan is a system that provides analytics for improved utilization by connecting machine tools and visual control of factory operation results and machining records. Simply connect the OSP and a PC and install the Factory Monitor suite on the PC to see the machine operation status from the shop floor, from an office, from anywhere.
The Connect Plan is an ideal solution for customers trying to raise their machine utilization.
How the start, visualize and improve cycle with the Connect Plan works

Have visual control of the plant anytime, anywhere
Okuma's Connect Plan with Internet access lets you see the operating status of a distant factory. You can check the operating status of a factory remotely, and check email notification of machine alarms.
Connect Plan Benefits

Analyze your factory present and past, improve the future
Factory operating management
This function reduces machine stop times and raises utilization by visualizing past and present operation results, for analysis and future improvements. By visualizing current operating results, machine stoppages can be noticed quickly and corrective measures can be taken. With alarm notification, steps can be taken even earlier and machine stop time can be decreased.
The system also lets you visualize not only the past utilization rate but also the alarm history and operation history. Causes of machine stops can be pinpointed and analyzed, and improvements can be made. Maintenance and check times can also be visualized with various maintenance icons, and future breakdowns can be prevented by reliably performing machine maintenance.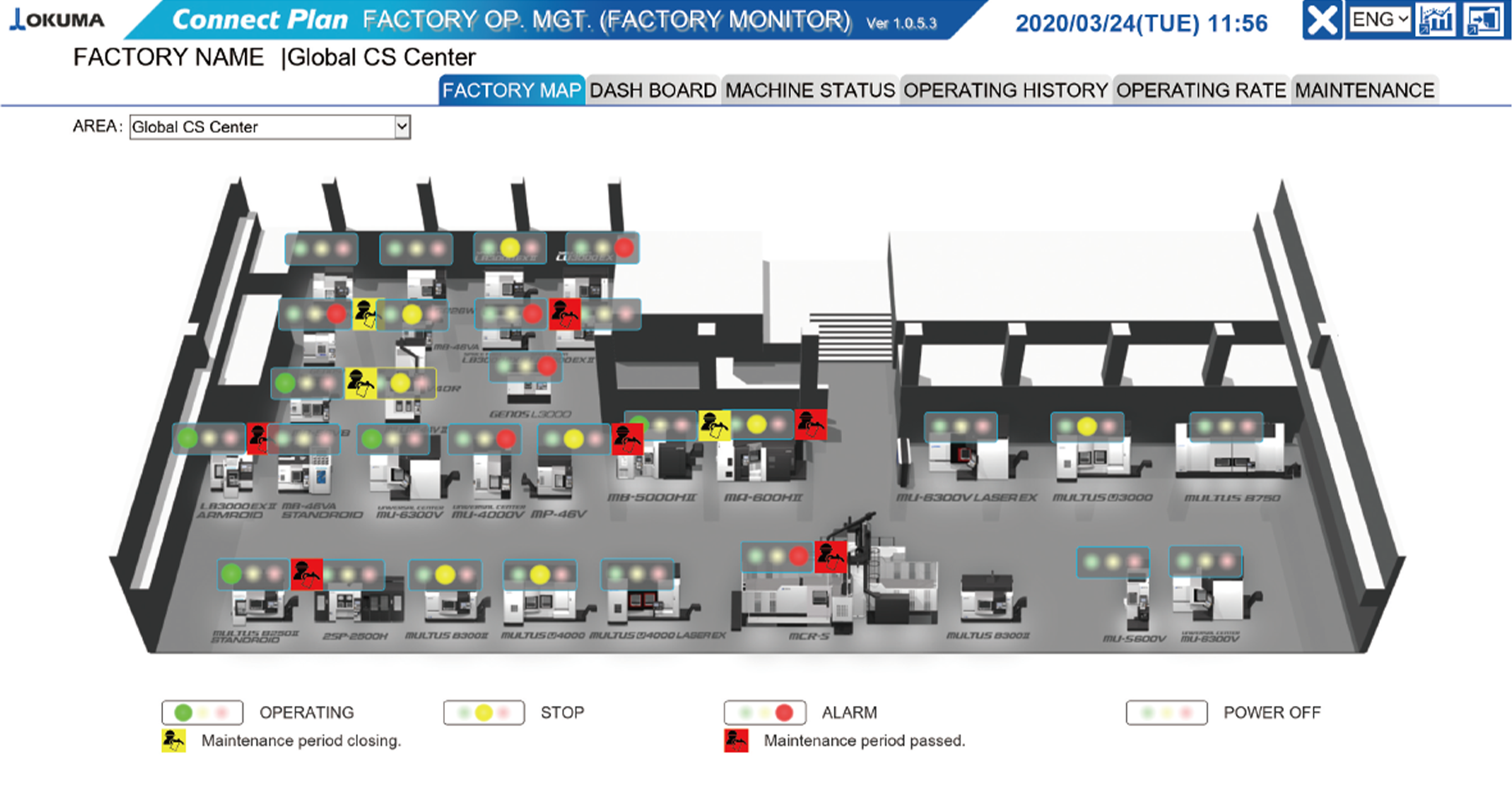 Machining Record Manager
Machining Record Manager achieves machining traceability by connecting the unique ID of the machined parts with the machining results, process list, and measurement results for each machine. Checking the "when, where, and how" the part was cut, and "what" the measurements were can be done easily. If there is a problem with a workpiece, the cause can be analyzed and high quality production can be achieved with greater assurance.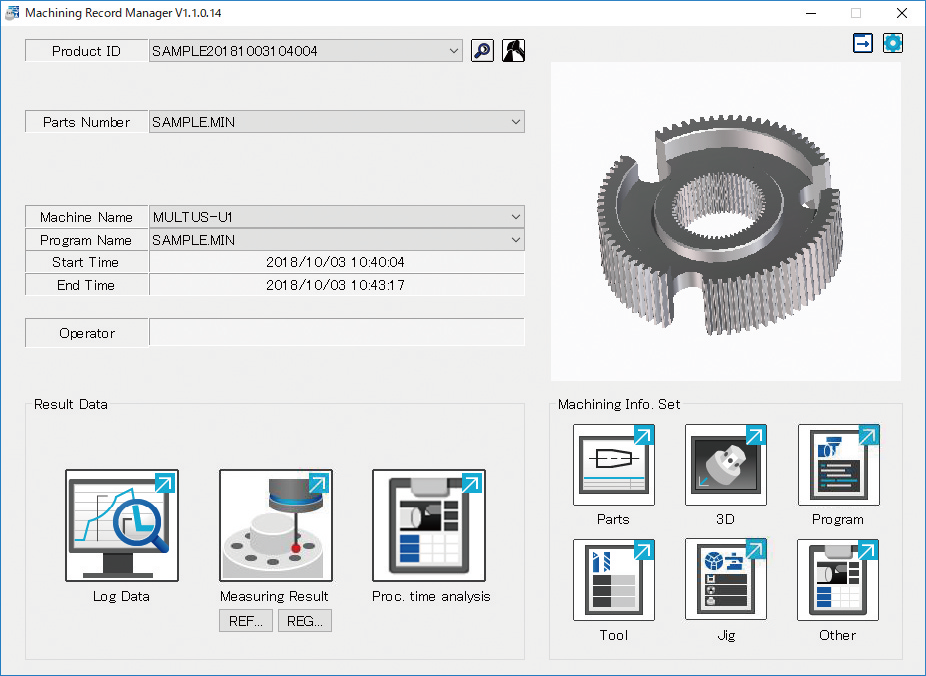 User's Voice
Here is a real story from a customer using Okuma's Connect Plan.
Atsuta Kigyo Co., Ltd
Connect Plan Specifications
Compatible Controllers
●:Available ○:Partially available -:Not available
Functions
OSP-P300A
OSP-P300*1
(Smart IF)
OSP-P300*2
OSP-P200A
OSP-P200
(Smart IF)
OSP-E100
OSP-U100
OSP7000
(DNC-T3)
FANUC
compatible
machines*3
(FOCAS1)
(FOCAS2)
Non-Okuma
Machine
Controls*4
(MT Connect)
OSP5020
or earlier
Other Co.
Control
Factory
operating
management
Entire
factory
view
Operation status
(factory map)
●
●
●
●
●
●
Maintenance icon display
(factory map)
●
-
-
-
-
-
Dashboard
●
○
○
○
○
○
Machine status
●
○
○
○
○
○
Operating history
●
●
●
○
○
○
Operating rate
●
●
●
○
○
○
Non-operation reasons
●
●
●
-
-
-
Maintenance list
●
-
-
-
-
-
Individual
machine
view
Machine monitor
●
○
○
○
○
○
Operating report
●
●
●
○
○
○
Alarm history
●
●
●
●
●
-
Operation history
●
●
●
-
-
-
Machining report
●
●
●
-
-
-
Setup information
●
●
●
-
-
-
Maintenance
●
-
-
-
-
-
Factory-Mail
●
○
○
○
○
○
Machining Record Manager*5
●
-
-
-
-
-
AI Operation Analysis*5
●
●
-
-
-
-
*1. With OSP suite
*2. Without OSP suite
*3. Okuma machines with FANUC control; for Okuma and Okuma & Howa machines shipped after 2004. FANUC 0i (FANUC 0i-TD, 0i-MD) controls, however, are compatible from 2012 or later. For FANUC-equipped machines made by other companies, confirmation of connections and other retrievable items will be required on each occasion. Some items may not display on device screens depending on the type of machine, control system model, and software version.
*4. It will be necessary to confirm connections and retrievable items on each occasion.
*5. Grinding machines excluded.