Significant reduction in production lead time
Machine structural design achieves fastest-class
continuous feed rates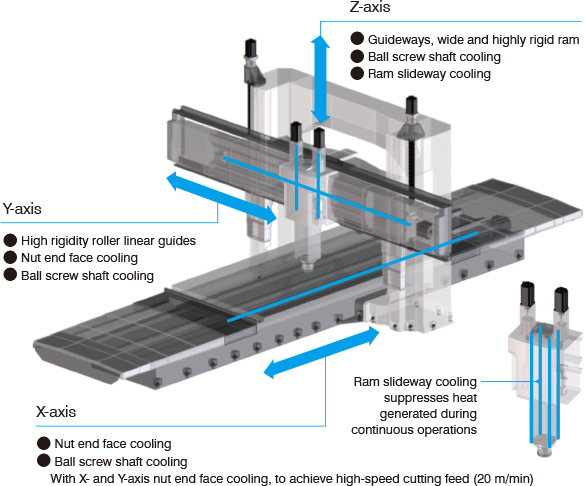 Cycle times: 25% shorter *
Previous model: 7h 13min
forward
MCR-S: 5h 25min
(Body designed surface only)
Note: Compared to previous model automobile side panel operations
High speed continuous feed while maintaining high
shape accuracy and machined surface quality

Average continuous cutting feed:

X/Y axes: Max

20

m/min
Z axis: Max

10

m/min

Machine designed high-speed continuous feed

Shortening cycle times while maintaining geometric accuracy with optimal cooling.
Mechanically designed to ensure minimal following error even at fast feeds.
Everything from roughing to finishing is completed with one machine

Cycle time is shortened for heavy-duty cutting with a powerful spindle.
By completing roughing to finishing with one machine, the operator time for changing setups is greatly reduced.

Powerful spindle enables heavy-duty cutting

Cutting capacity: 710 cm3/min (Z-axis 800 mm extension; machining in all directions)
Max spindle output: 26 kW
Max spindle torque: 735 N-m

High-rigidity ram type spindlehead
Advanced, high surface quality technology
dramatically reduces polishing work

Reduction of hand finishing time

Hyper-Surface

Automatically compensates for disturbances in part programs that lead to defective machining surfaces, achieving high quality surfaces without streaks.
Because it can reduce grinder polishing, imperfect shapes are prevented, to reproduce exactly what the designer wanted.
High-accuracy engineering drastically reduces hand
finishing times in die alignments
Area step errors 10 μm or less
Machine designed to achieve high geometric accuracies

Enhanced Thermo-Friendly Concept

Without column cooling (as before), the new machine design further adjusts the thermal balance of the column, etc by suppressing Z-axis tilt that occurs with ambient temperature change — even better than ever.
Even with long periods of operation, it is possible to reduce the step height errors caused by corner cuts to reduce the time required for hand finishing.

The swivel type laser sensor is mounted behind the table near the cutting point (Optional)

Measurement of tool length with the swivel type laser sensor eliminates cutting edge position error caused by differences in indexing angle and rotation speed of the tool, to minimize area step errors.
Lineup of attachment heads suitable for advanced die making

Abundant range of attachment heads (Built-in)
All kinds of shapes can be machined under the best conditions by changing the abundant variation of heads.
Many different processes can be performed continuously in auto operation with the auto tool changer (ATC) and auto attachment changer (AAC), greatly increasing productivity.
High-speed machining

Max spindle speed:
15,000 to 30,000 min-1

Continuous cutting feed rate:

Max X/Y axis: 20 m/min
Max Z axis: 10 m/min
Machine Specifications
Model
MCR-S 25
MCR-S 30
Item
25 × 40
25 × 50
25 × 65
30 × 40
30 × 50
30 × 65
Travel
X-axis (table front / back)
mm (in.)
4,200 (165.35)
5,200 (204.72)
6,700 (263.78)
4,200 (165.35)
5,200 (204.72)
6,700 (263.78)
Y-axis (spindlehead horizontal)
mm (in.)
3,200 (125.98)
3,700 (145.67)
Z-axis (ram vertical)
mm (in.)
800 [1,000] (31.50 [39.37])
W-axis (crossrail vertical)
mm (in.)
1,000 (39.37)
1,200 (47.24)
Effective width between columns
mm (in.)
2,650 (104.33)
3,150 (124.02)
Table to spindle nose
mm (in.)
0 to 1,550 (0 to 61.02)
0 to 1,750 (0 to 68.90)
Table
Working surface
mm (in.)
2,000 × 4,000
(78.74 × 157.48)
2,000 × 5,000
(78.74 × 196.85)
2,000 × 6,500
(78.74 × 255.91)
2,500 × 4,000
(98.43 × 157.48)
2,500 × 5,000
(98.43 × 196.85)
2,500 × 6,500
(98.43 × 255.91)
Maximum load
kg (lb)
22,000 (48,400)
27,000 (59,400)
34,000 (74,800)
25,000 (55,000)
33,000 (72,600)
43,000 (94,600)
T-slots
Width × No.
<center pitch>
mm
24H7 × 11 (center 200, both ends 130)
24H7 × 13 (center 200, both ends 180)
Height from machine bottom
mm (in.)
850 (33.46)
900 (35.43)
Spindle
Speed range
min-1
30 to 10,000
Taper bore
7/24 taper No. 50
Bearing diameter
mm (in.)
ø85 (3.35)
Feedrates
Rapid traverse
m/min (fpm)
X: 30, Y: 32*1, Z: 15 (X: 98.43, Y: 104.99*1, Z: 49.22)
Feedrate
m/min (fpm)
X: 20, Y: 20, Z: 15 (X: 65.62, Y: 65.62, Z: 49.22)
Average continuous feedrate
m/min (fpm)
X: 20, Y: 20, Z: 10 (X: 65.62, Y: 65.62, Z: 32.81)
W axis traverse (crossrail)
m/min (fpm)
4.8 (15.75)
Automatic Tool Changer
Tool shank
MAS BT50
Pull stud
MAS P50T-2
Tool magazine capacity
tools
50 [80, 100, 120, 180]
Max tool diameter
mm (in.)
w/ adjacent tools: ø135 (5.31), w/o adjacent tools: ø230 (9.06)
Max tool length
mm (in.)
400 (15.75)
Max tool weight
kg (lb)
25 (55)
Tool selection
Fixed adress
Motors
Spindle drive
kW (hp)
26/22 (35/30) (30 min/cont)
Axis feed drives
kW (hp)
X: 14.0, Y: 6.4, Z: 5.2 × 2 (X: 18.6, Y: 8.5, Z: 6.9 × 2)
Crossrail traverse drive
kW (hp)
W: 5.6 × 2 (7.5 × 2)
Power Sources
Electrical power supply
kVA
60*2
Compressed air supply
L/min(ANR)
1,040 (0.5 MPa or more)*2
Machine Size
Height
mm (in.)
6,420 [6,620] (252.76 [260.63])
6,700 [6,900] (263.78 [271.65])
Floor space (machine only)
mm (in.)
7,370 × 10,730
(290.16 × 422.44)
7,370 × 12,830
(290.16 × 505.12)
7,370 × 16,430
(290.16 × 646.85)
7,870 × 10,730
(309.84 × 422.44)
7,870 × 12,830
(309.84 × 505.12)
7,870 × 16,430
(309.84 × 646.85)
Weight (machine only)*3
kg (lb)
46,000
(101,200)
52,000
(114,400)
60,000
(132,000)
53,000
(116,600)
58,000
(127,600)
67,000
(147,400)
CNC
OSP-P300MA
[ ]: Optional
*1. Deceleration near both ends of Y-axis travel
*2. Standard specs
*3. With 50-tool magazine, 2-station AAC