Innovations in volumetric accuracy

Highly rigid trunnion table supports high-accuracy 5-axis machining

High quality machined surfaces with the high following of 5-axis machining

●Highly-rigid trunnion table supports both ends

●With ball-screw cooling (Std), reduced following error is achieved while maintaining highly accurate machining.

The indexing accuracies that take 5-axis machining to higher accuracies (MU-5000V Actual data)

●Indexing accuracy

・A-axis indexing accuracy/Indexing return accuracy: ±0.68 sec/±0.40 sec
・C-axis indexing accuracy/Indexing return accuracy: ±0.78 sec/±0.14 sec

●Fast operation

・A-axis/C-axis 90°clamp/unclamp indexing time: 1.0 sec/1.2 sec
A 5-axis machine that really cuts

Beyond the limits of conventional 5-axis machining
Highly efficient machining with amazing machining capacity
MU-5000V, MU-6300V Actual data ([ ]: MU-6300V specs)
Face milling capacity: 504cm3/min (S45C)

●ø80 face mill 8 blade (coating)

Spindle speed: 895min-1
Cutting speed: 225m/min
Feedrate: 2,250mm/min
Cut width × infeed: 56 × 4mm

End milling capacity: 672cm3/min (S45C)

●ø20 roughing end mill 7 blade (carbide)

Spindle speed: 4,000min-1
Cutting speed: 251m/min
Feedrate: 4,800mm/min [2,800mm/min]
Cut width × infeed: 7 × 20mm [12 × 20mm]
Process-intensive machining with turning capacity that approaches that of a lathe

Turning capacity: 3mm2 (S45C)

Machining dia: ø164mm [ø250mm]
Cutting speed: 130m/min (table rotation: 252min-1)
Feedrate: 0.6mm/rev
Infeed: 5mm

※ The above are actual examples. Your results may vary due to differences in specifications, tooling and cutting conditions.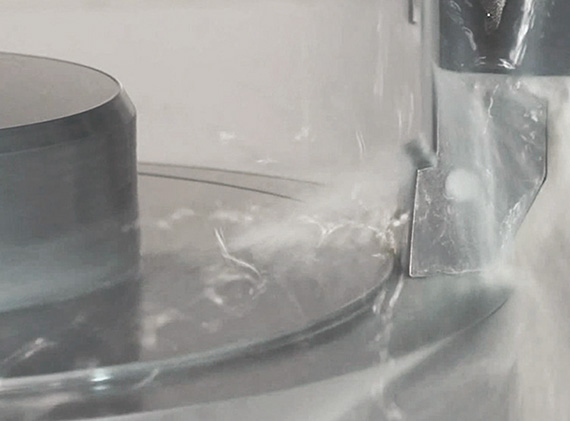 Get a real sense of the good visibility and
operability required in 5-axis machining

Superb operator access to the machining chamber

Structure allows easy tool edge confirmation during setup and machining

●Best table, spindle, and operation panel layout in terms of operability

Large step platform for easy working

●Operating stress reduced with large platform so that operator does not have to worry about footing

Large window for good visibility in machining compartment

Large machining range; tools can be changed with
trunnion still in swing position
The tool reaches the end of the workpiece even with the table at various inclination angles, enabling wide-range 5-axis machining.Tools can be changed with the trunnion still in a swing position, leading to reduced cycle times and higher machining accuracies.
Highlighted Specs
Item
Unit
MU-5000V
MU-6300V
MU-8000V
Table size
mm(in)
ø500 (ø19.69)
ø630 (ø24.80)
ø800 × 630 width (ø31.50 × 24.80)
Spindle speed
min-1
10,000, 6,000
10,000, 6,000
10,000, 6,000
Tool storage
tools
32
32
32
Motor
kW(hp)
11/7.5 (10 min/cont) (15/10)
11/7.5 (10 min/cont) (15/10)
11/7.5 (10 min/cont) (15/10)
Machine size
(W × D × H)
mm(in)
3,995 × 2,750 × 3,435
(157.28 × 108.27 × 135.24)
4,850 × 2,990 × 3,525
(190.94 × 117.72 × 138.78)
5,280 × 2,990 × 3,625
(207.87 × 117.72 × 142.72)
Spec extension
L
L
L