Use of 3D-CAD data in manufacturing plants is spreading for the purpose of promoting advance verification in upstream processes or coordinating product data across multiple departments. At the same time, multitasking machines are used more and more in parts machining, which is the ultimate objective of manufacturing, to accommodate diverse part shapes and forms of production such as process-intensive machining. Simple NC programming with 3D-CAM is needed.
To support the 3D-CAM activities of our customers, Okuma, in cooperation with major CAM makers, has developed a Post Processors*1 for Okuma machines that can be used globally.
• A programming solution that can be used immediately after installation
With this jointly developed system, major 3D-CAM makers raise the reliability of the Post Processors for Okuma machines that they provide to distributors in all countries and regions. This Post Processors eases the burden of customers and can be used immediately as a Post Processors necessary for machine operation.*2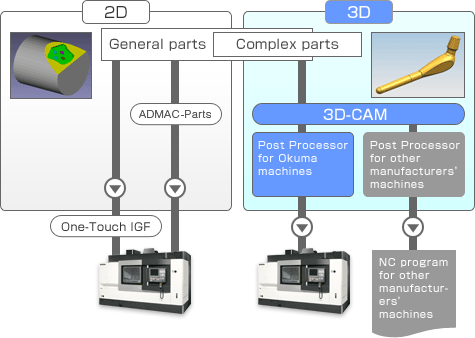 *1 : A Post Processors transforms the cutting path generated by CAM to an NC program matched to the machine configuration and controller.

*2 : Please contact CAM manufacturer for details on compatible machine models and other information.
Autodesk FeatureCAM

Feature-based CAM software.
Automatically recognizes shape characteristics and prepares the best NC data.
Can also create programs for multitasking machines.
Strong track record for 2D parts machining in particular.
Autodesk PowerMill

CAM software for native 64 bit OS.
Can be edited just as the user wants with astounding calculation speed and high-quality toolpath generation.
Toolpath generation with simple operation and wide range of variations even in simultaneous 5-axis machining.
Proven performance for machining of large dies/molds and similar products in particular, but can also handle large aircraft parts.

*Autodesk is a THiNC partner of Okuma America.
Support for 2 to 3 axes and up to fixed/simultaneous 4/5 axes in operations from milling to turning with CAM software adaptable to multitasking machines with 2 turrets + 2 spindles.
Business tools for not just creating tool paths but also a wide range of other uses, including tool databases and simulations.
With a reputation for user-friendliness, meets a wide range of needs from quick startup by beginners first using the system to the detailed demands of experienced users.
Machining automation of 3D solid models using an original flow chart.

Vero Software Ltd.

*edgecam is a THiNC partner of Okuma America.
The best CAM for all kinds of machine tools, especially multi-axis control and composite turning.
Intuitive, easy-to-use user interface.
Machining automation according to knowledge level.
Flexible customizability with open architecture.
Main CAD native files and feature information incorporated.
Equipped with full machine simulation.
Uniquely developed core functions.

DP Technology Corp.

*ESPRIT is a THiNC partner of Okuma America.
CAD/CAM software is a state-of-the art, PC-based CAM system for programming CNC machine tools.
GibbsCAM offers 2- through 5-axis simultaneous milling, as well as, 4- and 5-axis positioning. In addition, it provides 2-axis turning and mill/turn for multi-axis turning centers and WireEDM.
Easy to Use by Direct Graphical User Interface.
Seamless Operation between Turning and Milling Process.
Synchronization Control among Multi Turret, Pick-up, Bar feed operation.

■Gibbs and Associates, A Cimatron Company

*GibbsCAM is a THiNC partner of Okuma America.
CAD/CAM systems loaded with the latest technology to reduce tool load and raise machining productivity. These systems can create tool paths for operations from 2-axis machining to composite, simultaneous 5-axis machining for machining centers, NC lathes, and multitasking machines. Mastercam boasts the higher number of CAD/CAM systems shipped in the world.

CNC Software Inc.

*Mastercam is a THiNC partner of Okuma America.
Close linkage with powerful CAD functions.
Compatible with wide range of processes with a single system.
Tool paths for good machining efficiency.
Compatible with the most advanced machine tools, including high-speed machining, multi-axis cutting, and mill/turns.
Programming time reduced with user-friendliness, standardization and reusability, and automation.
Support for CAM data management.

Siemens PLM Software
SolidCAM is the complete, 'best-in-class' Manufacturing Suite for efficient and profitable CNC-Programming inside SolidWorks.
SolidCAM provides a powerful, easy-to-use, complete, integrated CAD/CAM solution that support the complete range of major manufacturing applications including 2.5D Milling, Multi-sided Indexial 4/5 axes Milling, Simultaneous 5 axes Milling, Turning, Mill-Turn for Multi-Turret and Multi-Spindle CNC machines.
SolidCAM's unique revolutionary iMachining technology.

SolidCAM
Programs can be substituted on machines with different axis configurations, and so programs can be created even when it is still unknown what machine they will be used on.
Boring, 2-axis, 3-axis, indexing, simultaneous 4/5 axis machining, and turning can be done with a single CAM.
Boring and 2-axis machining can be done using existing 3D model data, and high accuracy programs can be created.
Air cuts in boring, 2-axis and 3-axis machining, and indexing can be minimized with awareness of the material.
Machining know-how is registered in the system and work can be streamlined and standardized.

Missler Software