Okuma Introduces the V920EX High Precision Vertical CNC Lathe

05 Dec 2016
Okuma has launched the new V920EX high precision vertical CNC lathe with a maximum turning diameter of ø920 mm.
Simultaneous developments include an ATC to enhance automation and process-intensive applications and a two-spindle model, the 2SP-V920EX, to connect secondary operations for minimum lead times.
The V920EX has a maximum turning diameter of ø920 mm while maintaining the same required floor space as previous models, thereby improving floor space productivity. With Okuma's Thermo-Friendly Concept, stable high machining accuracy is achieved with dimensional change of ø15 μm or less with room temperature changes up to 8°C. In addition, use of the new ATC on the turning application turret makes it possible to combine on a single machine operations that previously had to be separated on two machines, significantly shortening lead times.
The V920EX will contribute significantly to production innovations in machining the large parts used in the aerospace, energy, large truck and automobile, and transport machinery fields.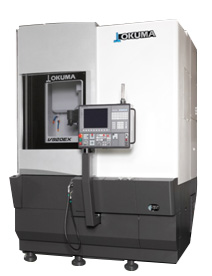 V920EX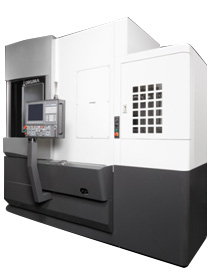 V920EX ATC specs