Introducing the V760EX High Accuracy Vertical CNC Lathe

27 November 2015
Okuma has developed a high-accuracy vertical CNC lathe with a maximum turning diameter of ø760 mm. A version with two spindles, the 2SP-V760EX, which minimizes the lead time by connecting 2 processes, has also been developed.
The V760EX contributes greatly to production innovations in the machining of large parts such as those for airplanes, energy industry equipment, large automobiles and transportation machinery.
High productivity machining is achieved with the combination of a turning diameter that is among the highest in its class and a small footprint (1,842 × 3,115 mm). High torque (1,258 N-m) helps to increase machining capacity 12% over the previous model, while milling capacity is enhanced to 7.5/4.3 kW for powerful cutting of heavy workpieces. Stable machining accuracy is maintained over long times with use of the Thermo-Friendly Concept.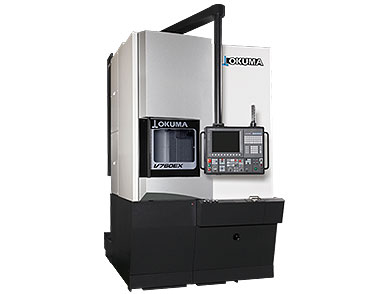 V760EX