Introducing the UNIVERSAL CENTER MU-4000V 5-Axis Vertical Machining Center

27 November 2015
Okuma has developed a new 5-axis vertical machining center with a table size of ø400 mm, the UNIVERSAL CENTER MU-4000V.
UNIVERSAL CENTER MU-4000V offers ease of use, a large machining area, and high accuracy -- all in a compact space. With a maximum machining diameter of ø500 mm and length of 400 mm, the working area is large enough for the tool tip to reach the end of the workpiece no matter what the angle of table inclination. The tool is not hidden behind the trunnion, ensuring good visibility even when the trunnion has a large inclination of 210 degrees (+90° to −120°).
Stable accuracy is achieved with a synergistic effect from combining the 5-Axis Auto Tuning System and the Thermo-Friendly Concept, minimizing machined surface step error during long runs. Automation (APC, robots, FMS, etc.) can also be used for good machine operability.
A 5-axis vertical machining center with a turning function, the UNIVERSAL CENTER MU-4000V-L, has also been developed.
This turning function together with grinding, gear cutting, and other operations also enables process-intensive machining. In combination with the MU-5000V, MU-6300V, and MU-8000V, which have table sizes of ø500 mm or more, a wide range of workpiece sizes can be accommodated to provide the highest levels of productivity to meet the growing global demand for 5-axis machining and multitasking.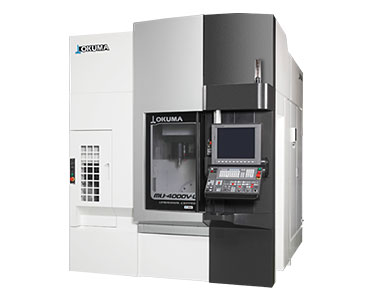 UNIVERSAL CENTER MU-4000V