Development of Tool Edge Control, a machining innovation for difficult -to-cut materials

03 Dec 2014
Okuma has developed a new technology, Tool Edge Control, that dramatically improves productivity with difficult-to-cut materials.

Tool Edge Control, solves problems of tool runout, caused by variable tool edges due to chipping. It does this by equalizing the cutting force per tool blade to provide optimum control of tool rotation and feedrate. Improving cutting conditions and increasing productivity by shortening cycle times dramatically extend tool life. This in turn greatly reduces investment costs.

In the machining of titanium with TEC, cutting conditions are raised 25%, tool chipping (tool edge damage) is dramatically reduced, and the removed chip volume per tool is greatly increased.

This new technology also enables high-productivity machining of difficult-to-cut materials with insert-type tools versus the expensive solid tools that have been used traditionally to avoid chipping. This makes it possible to reduce tool costs to one-fifth or even one-tenth.

TEC can be used with 5-axis machining centers and multitasking machines, delivering machining innovations to meet global demand in the aircraft and other markets.
Chips per tool (tool life)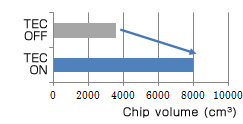 When machining titanium: 2.3-fold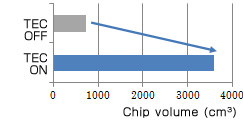 When machining stainless steel: 5.2-fold