Development of a "Skiving Gear Package" for Simple Gear Programming

03 Dec 2014
Okuma has established high-accuracy gear machining technology, such as inner and outer diameter spline gears, for multitasking machines and developed a "Skiving Gear Package" that can easily create these machining programs.

The SGP is an automatic programming function that can create part programs by simply inputting tool type, gear specifications, and cutting conditions for highly accurate machining of gears for which programming is complex and difficult. Programming time is shortened to about one-tenth compared with manual programming, and accuracy equivalent to that of a special-purpose machine is achieved by high-accuracy synchronized rotating technology for the workpiece spindle and tool spindle.

In addition to multitasking machines, the Skiving Gear Package can also be used with 5-axis machining centers with turning functions. Process-intensive, highly efficient production of high-accuracy gear parts and the highest levels of productivity are achieved.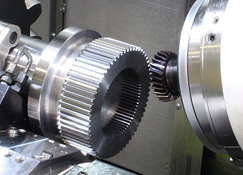 Skiving (OD/ID skiving)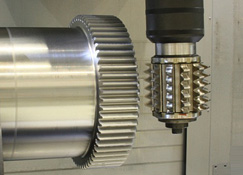 Hobbing