Okuma develops GA15W and GP15W super space-saving CNC precision cylindrical grinders

06 Nov 2014
The GA15W and GP15W CNC precision cylindrical grinders, with the smallest width in the class, have been developed in line with the popular GP-TII and GA-TII series of compact wheelhead traverse cylindrical grinders

The GA15W and GP15W were developed with a thoroughly space-saving footprint to target small parts. The machines have widths of 1,550 mm, the smallest in the class, and high productivity per unit area.

They combine heavy-duty grinding and high accuracy with Okuma's original non-round plain bearing (hydrodynamic wheel spindle). Rotational accuracy is 0.01 μm. High rigidity and low following error result from a wide V-Flat guideway design plus lapping work. They also introduce functions that minimize thermal deviation with a structure that does not readily transmit coolant heat and does inhibit regenerative chatter with a chatter suppression function.
Innovations for high accuracy machining are seen in all parts of the machines.

The GA15W and GP15W are also equipped with a new OSP-P300G CNC for grinders that enables setup operations to be done on a single screen with simple operating procedures in line with intuitive operative intentions and improves operability.

We will continue to meet the rising global demands for compactness and provide the highest accuracy and productivity.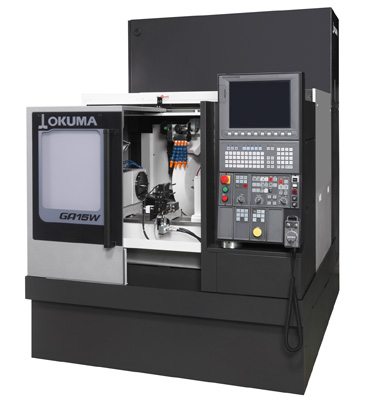 GA15W