Development of the GP/GA-T

II

series cylindrical grinder, a compact, high productivity machine with excellent space efficiency

22 Nov 2012
The GP/GA-T series of wheelhead traverse-type cylidrical grinders has earned an outstanding reputation. A model change now provides a new control and new design.
While retaining the compact machine design, X axis feedrate has been increased from 20 m/min to 30 m/min. This reduces positioning time.
There is no metal contact on the grinding wheel spindle and non-round plain bearings are used so that performance can be maintained semipermanently. Heavy-duty grinding is also possible with powerful retention force of 1 ton.
Zero setting is simplified with the newly developed OSP-U20G control, on which the number of button operations reduced to one-sixth that of the previous control, and energy-saving functions make it environmentally friendly.
Loader adaptability with easy workpiece clamping makes these grinders ideal for production line applications.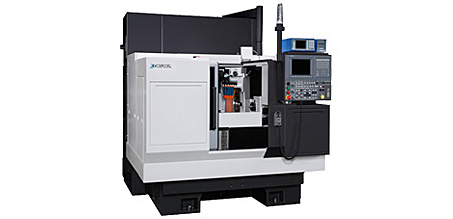 GA-26TII