Development of the powerful MCR-C double-column machining center for 5-sided applications, a machine for large parts

22 Nov 2012
Heavy industry continues to grow on the global market. The MCR-C was developed as a high performance machine to achieve productivity improvements in machining parts of increasing size and accuracy specifications.
It is equipped with a high power 45 kW spindle for powerful cutting and hybrid slide/roller guideways for the table, and at full spindle capacity displays both high vibration absorption and smooth movements.
Machining performance is also greatly improved compared with the previous machine, such as by reducing non-cutting time with a high speed feedrate of 24 m/min on the X and Y axes.
The MCR-C is equipped with the Thermo-Friendly Concept, one of Okuma's intelligent technologies, greatly reducing production costs by ensuring stable machining quality. This is done by solving accuracy problems due to thermal deformation that are inherent to large machines and minimizing the amount of thermal deformation.
As a source for both machine and control, Okuma provides impressive value to customers.
Okuma's MCR-C double-column machining center for 5-sided applications is a machine that fulfills these high concepts and achieves the highest productivity.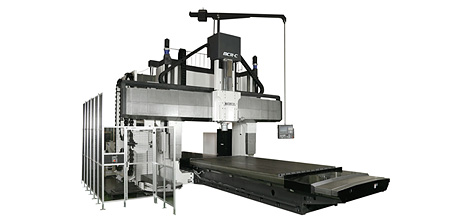 MCR-C