Development of Universal Center MU-10000H large 5-axis horizontal machining center that achieves highest productivity

22 Nov 2012
The MU-10000H 5-axis horizontal machining center was developed as a trunnion table machine with pallet size of 1,000 mm.
The Universal Center MU-10000H has a pallet that can handle loads up to 2,500 kg, rotation speeds among the highest in the world with 12 min-1 on the A axis and 20 min-1 on the C axis, and a trunnion table that enables high feedrate of 42 m/min with X, Y, Z double ball screws.
The spindle combines high speed and powerful cutting with high torque specifications of 1,070 N-m (1,920 N-m optional).
High productivity with large, complex-shaped parts is achieved with highly rigid machine structure and "intelligent technologies" including the Collision Avoidance System to prevent collisions, the Thermo-Friendly Concept to achieve outstanding dimensional stability, and Machining Navi to find the best cutting conditions.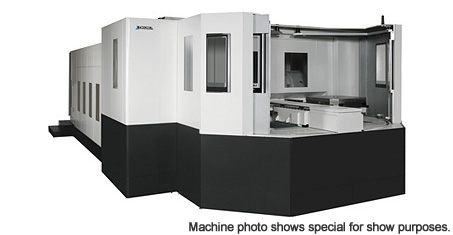 UNIVERSAL CENTER MU-10000H