Introducing the MULTUS B550—The best intelligent multitasking machine for process intensive machining of complex parts up to

φ

830

27 Sep 2012
Okuma has completed development of the MULTUS B550, the best intelligent multitasking machine for large complex parts such as those used in the resources/energy and aerospace industries.
A wide working range is achieved with Y axis travel of 520 mm, comparable to that of machining centers. The bed column with Okuma's traditional diagonal rib structure strongly resists bending and twisting, and a powerful turning spindle with output of 37 kW and exhibits the full power of the tool spindle on a machining center, which has the same 37 kW output. Large roller guides are used on the X, Y, and Z axes, and high accuracy machining of large parts is achieved with smooth movement and accurate positioning.
Use of the Thermo-Friendly Concept minimizes thermal deformation of large workpieces with long machining times, ensuring stable dimensional accuracies.
In addition, the new OSP-P300M control, which has greatly improved ease of use, and the Collision Avoidance System reduces the burden on the operator.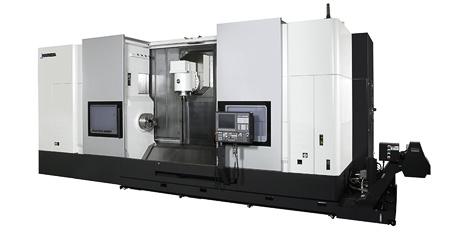 MULTUS B550