Development of the UNIVERSAL CENTER MU-6300V 5-axis vertical machining center for highly efficient 5-axis multi-sided machining

27 Sep 2012
The MU-6300V, with a maximum load work size of φ830 × height 550 mm, is the newest addition to the MU-V series of high-speed, high-accuracy 5-axis vertical machining centers.
The MU-6300V excels in operations from one-chuck, multi-sided machining of complex parts for the aerospace or energy industries to 5-axis machining as well as process-intensive machining with "turning + 5 axis" multitasking. The trunnion table uses a roller gear cam drive system on the A axis (two-spindle drive) and a direct drive motor system on the C axis for quality machining of multi-sided, complex shapes with fast, accurate positioning and easy, smooth movement. With a large A-axis travel range (+90 to -120°), continuous machining can be done even where the workpiece posture is changed to continue machining.
Use of the Thermo-Friendly Concept gives outstanding thermal stability. The geometric error inherent to 5-axis machines is easily measured and corrected with the 5-Axis Auto Tuning System, raising the accuracy of 5-axis machining.
APC and large capacity ATC specifications are set on the back of the machine to provide sufficient space on the operator's side with no loss to operability.
In addition, the new OSP-P300M control, which has greatly improved ease of use, and the Collision Avoidance System reduces the burden on the operator.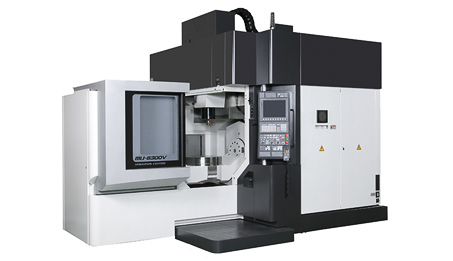 UNIVERSAL CENTER MU-6300V