Development of the SIMUL TURN LU3000 EX, the world's most powerful 2-saddle CNC lathe

22 Nov 2012
The LU300 2-saddle CNC lathe, which boasts over 2,000 units delivered, now has significantly upgraded specifications in its new incarnation as the newly designed LU3000 EX.
With spindle bore diameter increased to φ80 mm to handle big bore bar workpieces and expanded working ranges for the upper and lower turrets, a greater diversity of machining operations are now possible.
Machining capacity is also improved by reducing non-cutting time with faster feedrates of 25 m/min on the X axis and 30 m/min on the Z axis.
A milling spindle with output of 7.1 kW enables a greater number of operations on a single machine, and helps to achieve higher productivity in mass-production machining of shafts.
The effects of thermal deformation are minimized during long operating times with the use of the Thermo-Friendly Concept, ensuring dimensional stability. Good chip discharge means that long-run continuous operation can also be done with assurance.
The LU3000 EX is the world's most powerful 2-saddle turning center—the machine for mass production of shafts.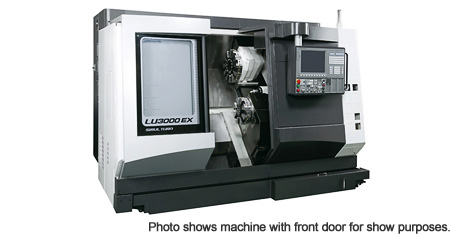 SIMUL TURN LU3000 EX