Development of TWIN STAR LT3000 EX, the third generation of this opposing spindle turning center

22 Nov 2012
The LT3000 EX can machine bar material up to 69 mm in diameter. It is the latest addition to the LT EX series of opposing spindle turning centers developed in 2010.
Process-intensive machining and integrated operations are achieved with right and left spindles and upper and lower multitasking turrets. At the same time, and a higher power milling tool spindle and upper and lower V16 turrets raise productivity in mass-production machining.
With its wide working range and 16-station upper and lower multitasking turrets, a greater number of processes can now be done on a single machine. A milling tool spindle with output of 7.1 kW and high-speed rapid traverse enable highly efficient machining.
Outstanding thermally stable structure is maintained with the Thermo-Friendly Concept even in long-run continuous machining, while stable machining accuracy is maintained with a highly accurate linear guide.
The burden on the operator is reduced with things such as coverings for excellent coolant and chip discharge and a V16 turret that shortens setup change time with permanent tooling. The newly developed OSP-P300 control greatly improves operability.
Even greater mass-production machining can be dealt with by adding 3-turret specifications, Y axis specifications (upper and lower turrets), and various automation functions.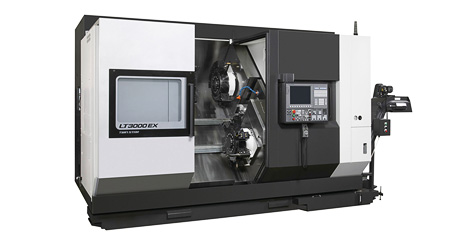 TWIN STAR LT3000 EX