Development of the SPACE TURN LB3000 EX

II

1-saddle CNC lathe with improved operability

22 Nov 2012
The SPACE TURN LB3000 EX has established a solid reputation for machining capacity and accuracy. After going through a model change it is now equipped with an OSP-P300L control for greater ease of use.
While retaining the Thermo-Friendly Concept, highly regarded for low thermal deformation, and high-rigidity machine construction, the new SPACE TURN LB3000 EX is equipped with the latest control and has a rejuvenated machine design.
High accuracies of φ5 μm (8℃ room temp charge, actual data) in machining dimensional change over time can be maintained in normal factory environments. Because of this extremely small amount of thermal deformation, warming up operation is almost unnecessary and environmental problems can be dealt with at low cost.
The newly developed OSP-P300L provides Easy Operation, which can be achieved because the CNC is made by the machine tool manufacturer. Meanwhile, operation time is greatly reduced with "single-mode operation" that lets you complete the things you want to see and do on a single operation screen. The high accuracy, high productivity LB3000 EXII is easier to use than ever.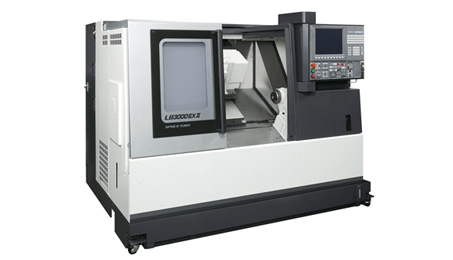 SPACE TURN LB3000 EXII