Development of the MP-46V Vertical Machining Center for high-precision parts and die/mold applications

20 Oct 2011
The MP-46V vertical machining center was developed to give a higher level of machined surface quality and greatly reduced cycle times. This is achieved with the highly stable machining accuracy and outstanding machine construction of the Thermo-Friendly Concept, an Okuma "Only-One" technology.
The Thermo-Friendly Concept has evolved to achieve machining dimensional change over time (8 hr, room temperature change 8°C) of 5 µm (actual data) over the full table range. Thermal deformation of the tool edge position is minimized by using rotary shaft cooling and inhibition of temperature change in the spindle and tool.
As a result, warming-up can be eliminated and there is extreme stability in dimensions both at the restart of machining after a machine stop and during tool change.
Outstanding machine construction, including a low center of gravity design and increased bed and column mounting rigidity, gives improved surface quality and a 30% increase in spindle acceleration. This greatly reduces die/mold cycle times.
The refurbished machine design produces a comfortable working space that incorporates ergonomics and universal design. This new Okuma premium design creates harmony between user and machine with comfort and assurance.
In general factory environments the MP-46V vertical machining center enables high value-added machining of a higher rank. It is sure to be a huge strategic asset in beating the global competition with high technology.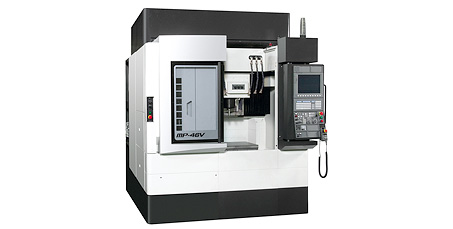 MP-46V