Development of the MB-5000H
A high-speed, compact horizontal machining center

23 Oct 2009
Materials today are moving toward the non-ferrous and precise in response to demands for lighter weight and greater efficiency in automobile parts, IT parts, and other industrial products. Okuma has developed the MB-5000H horizontal machining center, a lightweight machine with high productivity that is ideal for machining these non-ferrous materials and net shapes. The MB-5000H has a pallet size of 500 x 500 and a No. 40 spindle taper. It is a high-speed, space-saving machine that affords greater productivity in machining medium-sized and mass-produced parts. With higher speeds, the feed axes (Y and Z axes) have 40% higher acceleration and ATC/APC times have been reduced 20-30%. Optimum placement of the ATC magazine, control box, and chip conveyor give the machine a compact size of just 2.6 m in width and 4.6 m in depth. Ease of use is also outstanding. A swiveling, operation panel is located on the left side for good visibility of the machining chamber, and the ATC magazine faces the machine front to make tool preparation easier and more efficient.
Okuma's
Thermo-Friendly Concept
intelligent technology provides outstanding stability and accuracy without wasted time, enabling cold starts.
Outstanding stability and accuracy with use of the Thermo-Friendly Concept
Thermal deformation over time: less than 10 µm (actual data)
Also available on the MB-5000H is Okuma's newly-developed
Machining Navi
, an operation support system that enables the machine itself to find the best cutting conditions for different machines and operations.
The MB-5000H is a high-speed, compact, and high-accuracy machine that takes horizontal machining centers to a higher dimension.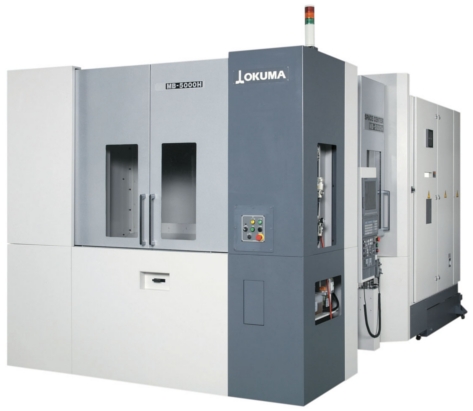 MB-5000H