Development of the VTM-200, a large vertical machining center that provides highly accurate, highly efficient machining of parts with diameters of 2 m

16 Oct 2008
The VTM-200 large vertical machining center was developed to meet the need for highly efficient machine tools in active heavy industries-aerospace, construction, shipbuilding, and energy-that are supporting the economic development of newly industrializing countries.
Realization of a powerful and rational structure based on sophisticated strength calculations, and application of Okuma's original Thermo-Friendly Concept to minimize machining dimensional changes over time that result from thermal deformation, enables highly efficient machining of large bearings or large-diameter flange-shaped parts.
"High rigidity design" gives the machine rigidity needed for highly efficient machining
Large base for highly rigid diagonal rib structure
Robust box-type column and wide box way
Saddle type turret structure
Turning: OD turning 4.2 mm

(for S45C,

2,000 mm)
Drilling:

40 mm
High thermal stability achieved with application of Thermo-Friendly Concept (optional)
Thermal deformation over time on X axis of less than 20 µm (room temperature change of 8°C).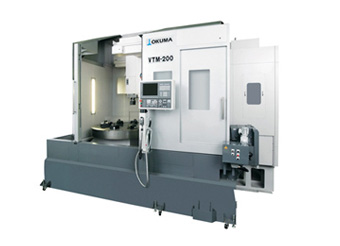 VTM-200