Development of MULTUS B750, an intelligent multitasking machine for high accuracy, process-intensive machining of large parts

16 Oct 2008
Okuma's Thermo-Friendly Concept and Collision-Free Machining help even novice operators achieve high value-added machining with assurance. These two concepts have been applied in the MULTUS series of intelligent multitasking machines, which provide high accuracy, process-intensive machining, and in the development of the MULTUS B750, a large intelligent multitasking machine for large parts in the heavy industry market.
The new MULTUS B750 has machine rigidity based on structural design cultivated for large machining centers, Okuma's original internal collision prevention system, and stabilized thermal deformation. Together, this gives the...
Machining performance of a large NC lathe and true machining center
Highly rigid diagonal rib structure bed and high accuracy, high rigidity spindle
Turning: Equivalent to LB45II (6 mm
2
(S45C))
Milling: Equivalent to MA-600H (610 cm
3
/min (f100 face milling, S45C))
Sure collision prevention
Collision-Free Machine (Collision Avoidance System)
With application of the Thermo-Friendly Concept, the MULTUS series has become the standard for high thermal stability.
A major characteristic is thermal deformation over time of less than 20 µm (room temperature change of 8°C).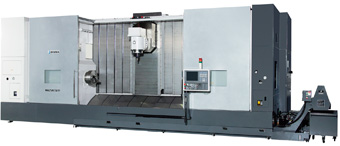 MULTUS B750