Kani Fifth Factory Completed

5 Feb 2007
New factory for integrated production of double-column machining centers.
Construction of the fifth factory (K5) in the Kani Plant has been completed. Growth in industry today is strongly supported by rising demand in the construction machinery, aircraft, and other heavy industries, and K5 will help Okuma respond to customer needs with increased production and shortened lead times for double-column machining centers for 5-sided applications, large size vertical machining centers, large vertical machining centers, and large CNC lathes. K5 will produce high quality products in a streamlined and efficient integrated production process.
K5 has total floor space of 20,000 m

. It is a windowless building with automatic temperature control throughout, equipped with many ceiling supported overhead cranes and wall cranes. The plant's full equipment and large space make it ideally suited to producing the most advanced machine tools. Together with the neighboring K4 factory, completed in March of 2006, K5 will help us to achieve our goal of integrated production from machining through assembly of double-column machining centers for 5-sided applications.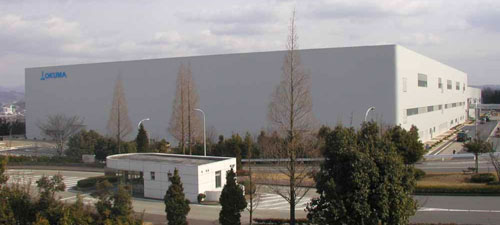 Outline of K5
Site
Kani Plant, 6- 3 Himegaoka, Kani, Gifu Prefecture, Japan
Structure/Di-
mensions
One-story steel frame building
Total floor space 20,000 m, 165 m (east-west) x 125 m (north-south)
Usage
Machining and assembly of large machine tools
Construction period
Start: August, 2006 Completion: February, 2007