Seibu Electric & Machinery Co., Ltd.
Case Studies
—Why Okuma was chosen
Advanced automation and labor-saving company make full use of multi-machines to improve productivity
Seibu Electric & Machinery Co., Ltd.
Industry

Development/manufacturing of distribution equipment, industrial machines, precision machines
Machine Shop Issues
How to increase the operating rate of multi-machine operations in high-mix, low-volume production
The Processing Center of Seibu is responsible for machining more than 1,500 types of parts required by their three business divisions: Delivery Equipment, Industrial Machine, and Precision Machine. In mass production, we do actively promote automation and laborsaving, but it is difficult to raise the operating rate of multi-machines in high-mix low-volume production.
The Okuma machine was selected to solve this problem.

The decisive factor for installing ARMROID
Easy operation, peace of mind that comes from collision avoidance, space saving, and so on, in one machine that integrates the functions required by our Processing Center
When I first saw ARMROID, I repeatedly made sure that, "Even if the workpiece is changed, the operator just decides the start and end points, and we really don't have to worry about an in-machine collision." This is because productivity will not increase unless the operator in charge of a multi- machine setup who also uses other machines, can easily use the ARMROID without depending on a full-time robot specialist. We carefully simulated operations in our shop and then decided to finalize the order.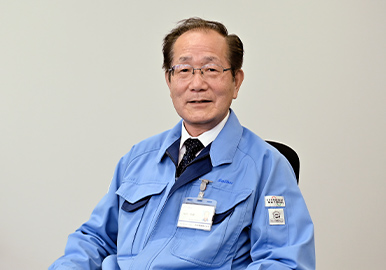 Results after Installation
Operating rate: 55% improvement (as of April 2021)
Originally, with a three-machine setup, and the operating rate of each machine was about 30%.
By replacing a turret lathe with the MULTUS B250Ⅱ ARMROID, the operating rate has improved to 85%, and the operating rate of the two other NC lathes has also improved to 50% due to synergistic effects. These better-than-expected results are due to process-intensive operations and shorter part load/unload times.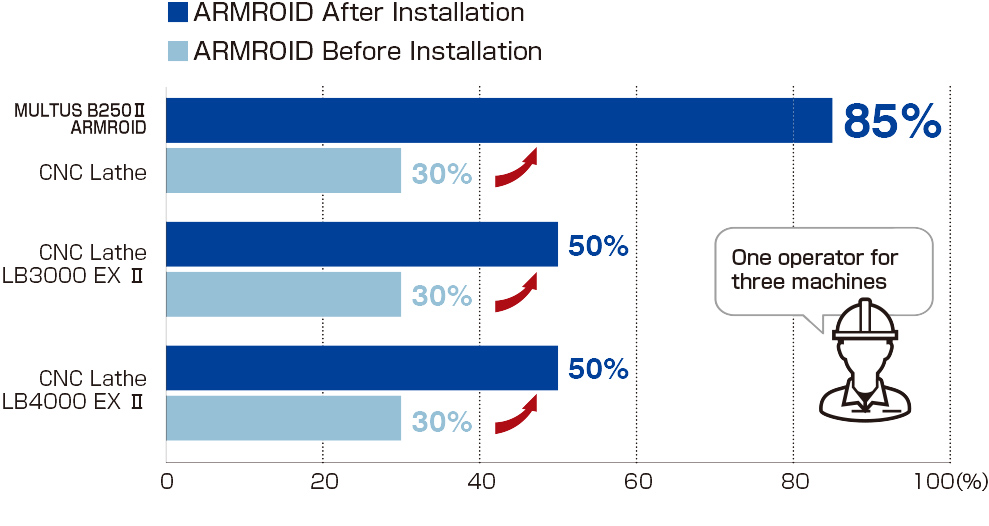 Impressions after installation
The young employees new to robotics are using it without any problem.
Based on the preliminary evaluation, we appointed our young employees to oversee ARMROID operations. From before we have been using Okuma NC lathes, but the robot operation is managed by the new employees. Immediately after the installation, they were able to use it without difficulty following the guidance of ROID Navi, an easy robot operating tool, and within a few months we launched a 30-type parts production operation.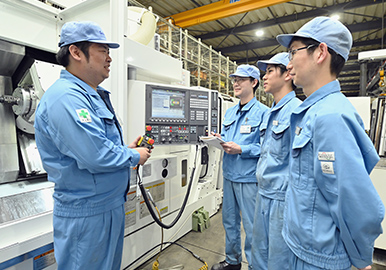 Compactness that can flexibly respond to layout changes has also been helpful.
Machine layout changes are required to improve efficiency as much as possible according to the needs of each business division, but our floor space is limited and not easy to rearrange. In that respect, the ARMROID is a built-in robot with an easily movable stocker for operations more compact than a gantry loader, and it flexibly adapts to layout changes.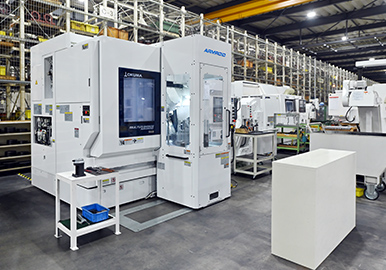 Customer Information
Seibu Electric & Machinery Co., Ltd.
(Koga City, Fukuoka Prefecture)
Website
Founded in 1927
A mechatronics maker that opens new paths to tomorrow through a wide array of technologies such as Distribution Equipment, Industrial and Electric Discharge Machines, and other machine tools based on a philosophy in "Pursuit of Ultra Precision and Machatromation®." As a global mechatronics manufacturer, we are contributing to quality/productivity improvement and laborsaving/unmanned operation in the automobile, electric appliance, precision machinery, die/mold, petrochemical, food, civil engineering/construction, shipbuilding, medical care, and other industries.