Development of the VTM-1200YB 5-Axis Vertical Multitasking Machine that achieves high accuracy "turning + 5 axis" machining

20 Oct 2011
Okuma has combined a vertical lathe and 5-axis machining center in developing the VTM-1200YB 5-axis vertical multitasking machine to achieve true process-intensive machining.
The newly-developed VTM-1200YB uses the Thermo-Friendly Concept and has stable machining accuracy, strengthened turning and milling performance quicker moving components, and better operability with the Collision Avoidance System. It contributes to improving productivity and reducing costs in machining of large, complex parts.
The milling spindle has increased capacity for both power and torque, achieving a stock removal rate of 1,003 cm3/min (S45C) and turning capacity with OD cutting of 6.5 mm2 (S45C) (actual data). The structure and spindle movements on 5-axis multitasking machines are complex, and ensuring accuracy and operability has been a problem. The VTM-1200YB achieves outstanding dimensional stability of 20 µm (actual data) with room temperature change of 8°C over 8 hours, using the Thermo-Friendly Concept.
The Collision Avoidance System also gives a sense of security for collision-free machining, achieving high workability and productivity.
The refurbished machine design produces a comfortable working space that incorporates ergonomics and universal design. This new Okuma premium design creates harmony between user and machine with comfort and assurance.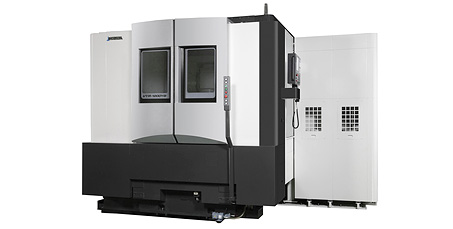 VTM-1200YB